Lots of swell on the way but the winds are an issue
Western Australia Surf Forecast by Craig Brokensha (issued Wednesday May 26th)
Best Days: Selected locations out of the northerly winds tomorrow and Friday, possibly Perth and Mandurah dawn Saturday, protected spots for the keen Sunday morning, Wednesday morning Margs
Features of the Forecast (tl;dr)
New, inconsistent SW groundswell Thu with strong N/NE tending N winds, easing Fri with similar winds (strong N/NW in Margs)
Large W/SW groundswell kicking late Fri, peaking Sat with moderate to fresh W winds, possibly variable Perth and Mandurah, easing Sat with strong S/SE tending S/SW winds
Inconsistent SW groundswell pulses for Tue and Wed with light E/SE winds Wed AM
Recap
Monday's oversized mix of SW groundswell and mid-period S/SW energy dropped rapidly into Tuesday leaving much smaller 6ft+ waves across the South West, under expectations but on forecast in Mandurah with clean 3-4ft sets, 2-3ft in Perth.
Conditions were average at dawn in the South West, improving through the morning, clean all day to the north.
Today the surf has eased further and winds are freshening from the N/NE favouring selected spots.
This week and weekend (May 27 - 30)
Moving into the end of the week we'll see stronger northerly winds dominating our coasts as a strong, slow moving mid-latitude low pushes in from the west, squeezing a strong high in the Bight.
Early across Margs a strong N/NE-NE breeze is due, NE further north, though shifting more N'th through the morning, while Friday will see fresh N/NE winds in Perth and Mandurah through the morning, N-N/NW across Margs and stronger into the afternoon.
We should see a new, slightly inconsistent SW groundswell breaking across all regions, generated on the weekend and early this week by a good polar frontal progression.
The South West should come in at 4-6ft tomorrow, 1-2ft in Mandurah and 1-1.5ft across Perth, easing Friday.
Later in the day Friday but more so Saturday, the swell from the mid-latitude is due to fill in, that being a large though windy, W/SW groundswell.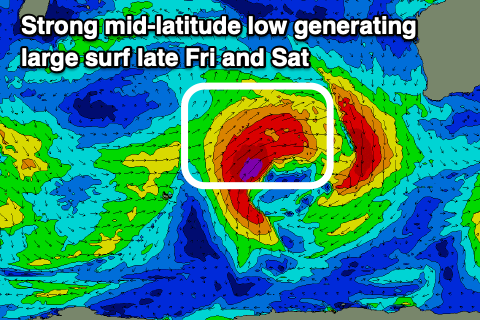 A fetch of gale to severe-gale W/SW winds are being projected towards us, with the low due to weaken just south-west of us on Friday.
Size wise, the South West should kick late Friday to 8-10ft, 2-3ft Mandurah and Perth, with Saturday seeing 10-12ft+ waves with 4ft surf in Mandurah, 3-4ft in Perth.
Winds will unfortunately be onshore out of the W across the South West on Saturday, though only moderate to fresh, with a possibly period of variable winds early in Perth and Mandurah, but we'll confirm this Friday.
Sunday looks a touch better now as a trough turns into a mid-latitude low off our South Coast, bringing strong S/SE tending S/SW winds, favouring protected spots for the keen.
Unfortunately the mid-latitude low looks slow moving with strong S/SE winds persisting Monday in the South West, more S/SW-SW further north.
This will be as the swell eases further in size, with a localised S/SW windswell in the mix across Perth and Mandurah.
Tuesday will remain average as S/SE winds persist, cleaner Wednesday but on the smaller side.
A couple of inconsistent, background SW groundswells are due Tuesday and Wednesday from small polar lows temporarily firing up in our swell window.
Size wise the swells look to be around 4-5ft for Margs, tiny to the north.
Longer term the outlook is fairly subdued until late in the week/next weekend, but more on this Friday.