Friday, 7 February 2020
Forget tomorrow, focus from Sunday
UNLESS YOU LIVE AT THE BEACH, PLEASE DON'T TRAVEL TO SURF
COVID-19 is changing the way we think about surfing. Travelling to the surf now means you're putting an unnecessary strain on the resources of small regional communities. So, please stay home. If you live near the beach and want to surf, please maintain a healthy spacing in the lineup, don't hang in the carpark, and keep your surf sessions shorter to allow others the opportunity to get wet. Above all, stay happy, healthy and look out for one another.
Western Australia Surf Forecast by Craig Brokensha (issued Wednesday 5th February)
Best Days: Protected spots Sunday, Monday morning, Tuesday morning, Wednesday, Thursday morning in the South West
Recap
A fun wave across the south facing beaches and swell magnets in the South West yesterday with a kick in swell and winds out of the north, tiny in Mandurah and Perth. Today conditions are poor across all locations with no swell and varying onshore winds.
This week and next (Feb 6 - 14)
Tomorrow is still a lay day with no new swell and early S/SE winds across most breaks, shifting onshore out of the S/SW quickly thereafter and W-W/SW into the afternoon.
Moving into Sunday and our large new SW groundswell is on track, with the polar low linked to this now currently weakening south-west of us.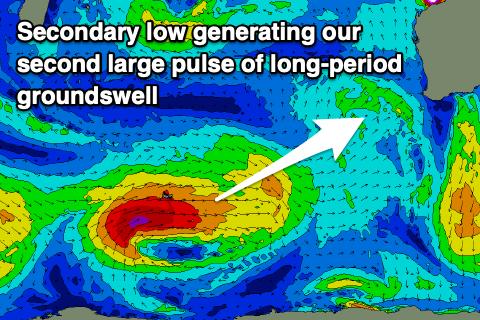 The swell will arrive through Sunday morning and kick strongly and rapidly, reaching 8-10ft across the South West swell magnets into the afternoon, if not for the odd sneaky bigger cleanup. Mandurah should build to 3ft and Perth similar on the sets.
Winds are a touch better but still only favourable for protected spots and strong out of the S/SE, likely shifting S/SW for a period through the day and then S/SE later.
Come Monday we're looking at better conditions with a fresh SE'ly due across most spots, even tending E/SE at times in the morning ahead of sea breeze. The swell will be on the ease from 6-8ft across the South West, 2-3ft in Mandurah and 2ft+ Perth.
Tuesday looks smaller again with great offshore E/SE-E'ly winds ahead of sea breezes.
The secondary pulse of long-period SW groundswell for Wednesday is still on track, with a smaller but longer-lived polar low forming south-east of South Africa currently generating a fetch of gale to severe-gale W/SW winds while tracking east.
We'll see it continuing east-northeast while slowly weakening and then breaking down south-west of us Sunday.
The swell will be less consistent but large again, building Wednesday and reaching 8ft+ across the South West swell magnets into the afternoon, 2ft to occasionally 3ft in Mandurah and 2ft+ across Perth.
Winds are looking great and offshore out of the E/NE (not as strong as earlier in the week) ahead of sea breezes, less favourable Thursday as the swell eases and a surface trough brings varying and funky winds – likely S/SE in the South West, N/NW to the north.
Following these swells the outlook goes a little quieter, so make the most of the coming waves and favourable conditions. Have a great weekend!