Monday, 18 February 2019
Good swell this week, but onshore when it peaks
Western Australia Forecast by Craig Brokensha (issued Monday 18th February)
Best Days: Wednesday morning swell magnets in the South West, early Friday Margs and Mandurah, Sunday morning in the South West, Monday morning
Recap
Small to tiny and average conditions to kick off the weekend, but a fun new pulse of SW swell for yesterday offered great waves across the South West to 3-5ft with nice clean conditions, a fun 2ft in Mandurah though tiny in Perth.
The swell has swung more south in direction and dropped right back today with a fresh offshore wind.
Today's Forecaster Notes are brought to you by Rip Curl
This week and weekend (Feb 19 - 24)
Tomorrow will be a lay day as the swell continues to drop out of the S/SW along with a moderate to fresh SE breeze. A new S'ly groundswell is expected across exposed south facing spots from a stalling low over the weekend, but any spots picking up this swell will be cross-shore at best.
Wednesday morning looks to start small to tiny again but a new mix of swells are due to build through the afternoon, with the peak not put back to Wednesday morning.
Since late last week a distant front generated a fetch of severe-gale W'ly winds south-east of South Africa, moving north of Heard Island but the front is now weakening south-west or us.
It's weakened off a little quicker than ideal and as a result there's been a slight down-grade in the expected size, consistency and arrival.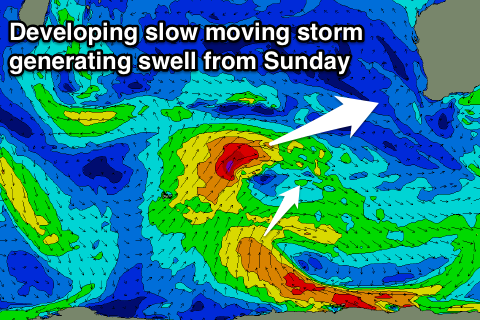 An increase in size should be seen through Wednesday afternoon to an easy 6ft across the South West, 2ft in Mandurah and 1-2ft in Perth but a morning E/SE offshore will give into afternoon sea breezes.
A peak is expected on Wednesday morning with the long-range energy offering infrequent 6ft+ sets, 2ft to possibly 3ft in Mandurah and 1-2ft in Perth, but winds will be onshore out of the SW as a weak trough moves in from the west.
Friday is looking much better with a light offshore E/NE wind at dawn but you'll have to be quick as an approaching front will swing it N'ly quickly through the morning and W/NW into the afternoon.
There should still be some fun size about with small reinforcing mid-period swells from weak fronts moving through our swell window over the coming days. Margs should still be 4-5ft, with 1ft to possibly 2ft sets in Mandurah, 1-1.5ft in Perth.
Saturday will be a little smaller again but winds average with a dawn N/NE'ly tending N/NW shortly after and persisting into the afternoon.
From Sunday we should see a bit more size developing across all locations and from a slightly more western direction as a slow moving and broad low moves in from the south-west.
An initial small fetch of W/SW gales will be followed by a broader but weaker W/SW fetch at a more southern latitude, generating mid-period pulses of surf from Sunday afternoon and pealing Monday.
Size wise Margs should peak around 6ft, 2-3ft in Mandurah and 2ft in Perth Monday with a S/SE offshore, but more on this Wednesday.