Friday, 14 September 2018
Large to extra-large swells with workable winds
Western Australia Surf Forecast by Craig Brokensha (issued Friday 14th September)
Best Days: Saturday, early Sunday Perth and Mandurah, Monday and Tuesday protected spots, every morning from Wednesday across magnets
Recap
Average onshore winds across all locations yesterday with a new SW swell, followed by a larger building swell today with OK winds for keen surfers in protected spots.
We should see the new large SW groundswell reaching 10-12ft across the South West by dark with 4ft sets in Mandurah and 3ft+ waves in Perth as winds improve a little more and tend more S/SE.
Today's Forecaster Notes are brought to you by Rip Curl
This weekend and next week (Sep 14 - 21)
Tomorrow is still looking excellent across all locations as this afternoon's and evening's large and powerful SW groundswell eases as winds swing offshore.
Winds may tend a little too quickly north than ideal across the South West, but we'll see a dawn E/NE breeze, tending NE through the morning and then variable from the N'th into the afternoon with easing sets from the 10ft range.
Mandurah and Perth look great all day with E/NE tending variable winds and easing sets from 3ft+ and 2-3ft respectively.
Sunday will be smaller and onshore across the South West as a front approaches bringing W tending strong S/SW winds, while Perth and Mandurah should see early SE winds with easing 2ft sets (mainly around Mandurah).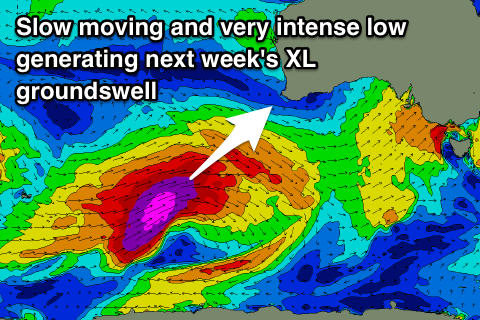 This front will be linked to a much more significant storm passing under us, with it forming just north of the Heard Island region today.
This storm will generate a great fetch of severe-gale to storm-force W/SW winds through our south-western swell window today and tomorrow while pushing slowly east, moving out of our swell window Sunday evening.
An XL long-period SW groundswell is due off this low, arriving overnight Sunday and peaking through Monday afternoon.
The South West looks to reach an easy 12ft+ across the exposed reefs through the afternoon, if not 12-15ft, with larger sets at deepwater reefs.
Mandurah should build to 4-5ft, with 3ft+ waves in Perth.
The only issue are the local winds which look to be generally cross-shore and from the S/SE during the morning across all locations, S/SW into the afternoon.
Unfortunately similar winds are expected into Tuesday as the swell eases owing to a strong and stationary high sitting to our west and not sliding in further east, favouring protected spots.
More variable breezes are due Wednesday but by then the swell will be much smaller and on the way out.
Longer term there's no real significant swells for the end of the week and next weekend, with unfavourable pre-frontal fetches due to generate small SW swells for Thursday and Friday but with morning offshore winds. More on this Monday. Have a great weekend!