Wednesday, 18 July 2018
One window to rule them all
Western Australia Surf Forecast by Craig Brokensha (issued Wednesday 18th July)
Best Days: Thursday, early Friday Perth and Mandurah keen surfers
Recap
Unfortunately no window of light winds was seen across any region yesterday morning with developing stormy XXL surf across the South West through the day with the Cape Naturaliste buoy showing readings of just under 6.5m at peak periods of 20s. The swell kicked strongly into the afternoon across Mandurah and Perth but with poor conditions.
This morning the swell was still in the XL range across the South West with a reinforcing SW groundswell from a severe low though with strong onshore winds, while Mandurah was back to a messy 3-4ft, and 3ft in Perth.
Today's Forecaster Notes are brought to you by Rip Curl
This week and weekend (Jul 19 - 22)
Want to receive an email when these Forecaster Notes are updated? Then log in here and update your preferences.
With all this massive swell going to waste the last couple of days, we're keen to look into tomorrow and the expected offshore winds.
This afternoon we should see a strong high move in, swinging winds SW across all locations opening up good wave in protected spots later today.
The high will continue east overnight and into tomorrow resulting in winds swinging offshore from the SE to E/NE tomorrow morning across Margs, N/NE into the afternoon but easing off. It will likely still be quite raw and lumpy through the morning, improving through the day.
Mandurah and Perth should see E/NE tending variable NE winds.
Size wise, today's large reinforcing SW groundswell will ease through tomorrow, slowed by a reinforcing S/SW swell generated on the backside of the frontal progression generating today's swell.
Exposed breaks in Margs should still be up around 10 to maybe 12ft tomorrow morning, easing steadily and back from the 6ft range Friday morning. Mandurah should ease back from 3-4ft, with 3ft sets in Perth, smaller from 2-3ft and 2ft respectively Friday.
Winds on Friday will be poor from the get go across the South West with N/NW winds owing to another episode of winter calibre storm activity pushing in from the west, while Perth and Mandurah should see early N/NE winds before shifting N/NW-NW.
As talked about last update, another strong node of the Long Wave Trough is developing across the Indian Ocean and will move in slowly while deepening over the coming days and weekend, stalling directly west of us through most of next week.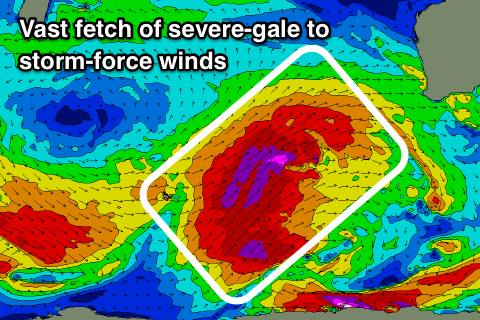 With the LWT stalling just west of us, we'll see winter calibre storms directed from polar latitudes right up and into us from the weekend through most of next week before the node starts to weaken.
An initial strong mid-latitude storm that's develop south-east of Madagascar is due to produce an initial moderate to large long-range W/SW groundswell for Saturday, building through the day, but with gusty W/NW winds.
A much much more significant polar storm will then produce an expansive fetch of severe-gale SW winds from the polar shelf all the way towards us, with embedded storm-force winds. This front will project far north, producing an XXL long-period W/SW groundswell for Sunday and Monday, with a secondary system keeping wave heights up into Tuesday.
Unfortunately along with this will come strong to gale-force W/NW winds, creating very poor conditions.
The place to be will be Indo, with one of the biggest swells of the season expected.
We're not expected to see winds back off until at least next weekend, but more on this Friday.