Wednesday, 21 March 2018
Average end to the week, good rare NW groundswell Sunday
Western Australia Surf Forecast by Craig Brokensha (issued Wednesday 21st March)
Best Days: Saturday morning across the South West, Sunday, early Monday
Recap
Super fun waves across Margs both yesterday and today with clean surf to 4ft on the former, a touch smaller and more S/SW in direction today.
Mandurah and Perth have been clean but tiny.
Today's Forecaster Notes are brought to you by Rip Curl
This week and weekend (Mar 22 – 25)
Tomorrow is still a lay day with today's swell dropping back as a weak surface trough moves in from the west, bringing increasing S/SW winds (light and offshore early around Mandurah and Perth).
Into the afternoon a new long-period S/SW groundswell is due, with satellite observations picking up a great fetch of severe-gale to storm-force W'ly winds in our southern swell window, but this will be spoilt by the onshore winds.
We'll see this swell ease through Friday from 3-4ft across south magnets in the South West but with unfavourable S/SE winds.
Before we get to Severe Tropical Cyclone Marcus, we're due to see a mid-period SW swell building Saturday across the state and peaking later in the day.
This is being generated by a broad though relatively weak polar front that's currently just east of Heard Island, projecting slightly east-northeast today and tomorrow.
We should see the South West building to 3-5ft later in the day, and easing from the 4ft range Sunday, with tiny waves in Mandurah and Perth.
Now to Marcus.
Severe Tropical Cyclone Marcus is currently north of Exmouth and is expected to reach Category 5 early tomorrow morning before making a left turn down adjacent our coast.
There hasn't been much change to the forecast on Monday, with hurricane-force N/NW winds due to be aimed towards the northern half of the state, weakening back to the gale-force range as Marcus breaks down well west of Kalbarri.
This stall off Kalbarri will limit any large swell hitting the southern part of the state, but we'll still see a great pulse of NW groundswell with favourable winds on Sunday.
We'll start to see small acute levels of N'ly swell across the North West later tomorrow, with larger levels of N/NW groundswell building through Friday and reaching 8-10ft late in the day with even larger sets due on Saturday at the swells peak.
Winds Friday look favourable early and from the SE-S/SE before swinging onshore into the afternoon with light but increasing NW winds Saturday. More variable winds may be seen Sunday morning as the swell drops rapidly out of a more W/NW direction.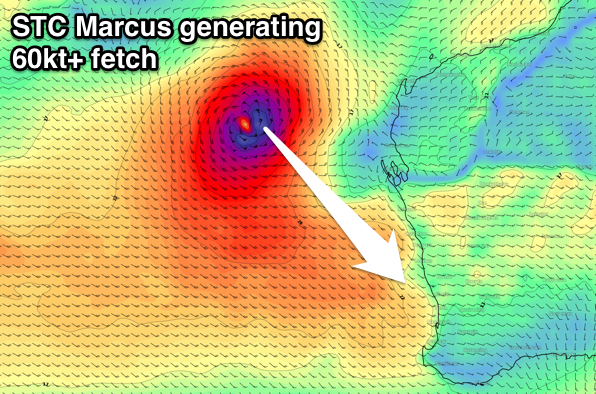 Down around Perth we should see a hint of N/NW groundswell late Saturday but the peak is due Sunday with 3-4ft sets out of the NW. Mandurah will be a little more exposed and will likely see a touch more size.
North facing spots in the South West should peak more through the middle of the day on Sunday with sets to 4-6ft, much smaller at south-west facing breaks, with more visible easing sets from the SW swell.
Conditions on Saturday will be OK in the morning with a fresh SE'ly (more E/SE around Perth and Mandurah), tending S/SE into the afternoon, while Sunday looks great with fresh E/SE winds lasting most of the day around Mandurah and Perth, tending S/SE across the South West.
Come Monday the swell will drop rapidly with morning E/NE winds, likely tending NW into the afternoon.
Longer term some new SW groundswell is due mid-week with improving winds after onshore breezes Tuesday, but more on this Friday.