Winds finally swinging offshore on Saturday for the SW
West Australian Surf Forecast by Guy Dixon (issued Wednesday 12th August)
Best Days: Friday morning, Saturday
Recap:
Monday saw large surf off the back of the weekend's swell event maintained by a pulse keeping the surf in the 8ft+ range across the South West throughout Tuesday. Onshore winds in the wake of a cold front kept options limited for the best part of Monday and Tuesday with only the most protected spots offering half decent a wave on Tuesday afternoon as winds swung south/southwesterly. Metro beaches were a write off for much of Monday despite being in the 3-4ft range under fresh onshore winds. Tuesday did well with 2-3ft peaks dotted along Perth/Mandurah stretches under light south/southeasterly winds.
This week (Wednesday 12th - Friday 14th):
The surf has held in the 6ft+ range this afternoon following yesterday's pulse of southwesterly ground swell. Light west/southwesterly winds are creating a few lumps on top but all in all isn't creating too much drama across the South West. Metro beaches are having a fun afternoon with 2-3ft peaks and light offshore winds up around Perth.
Thursday will see a subtle period pusle maintaining surf in the 5-6ft range during the morning easing in the afternoon across the South West. Perth and Mandurah should see surf in the 1-2ft range. The South West will be under a light/moderate onshore flow all day while Perth and Mandurah will see light/variable-offshore breezes in the morning, tending light westerly by afternoon.
The end of the week is still on track to pick up some fresh swell generated by a low and associated frontal progression which has been moving east of Heard Island throughout today. This system has an elongated fetch of northwesterly gales followed by a southwesterly trailing fetch of a similar strength. In addition, the low itself is whipping up low latitude southwesterly severe gales and is likely to lead to a couple of pulses of ground swell moving in quick succession for Friday morning and overnight into Saturday.
Friday is likely to build to around 6ft by the afternoon across the South West with Perth and Mandurah not seeing much increase in size, continuing in the 1-2ft range.
The best window of opportunity will be first thing across the South West under light/moderate northeasterly breezes. Unfortunately, as the swell builds, the winds will also strengthen and tend northeasterly limiting options to the protected corners. Perth and Mandurah will be light offshore for the best part of the morning tending northerly and eventually onshore in the mid-late afternoon.
This weekend (Saturday 15th - Sunday 16th):
Saturday will see the second pulse generated by the aforementioned trailing fetch. This pulse is not expected to bring any additional size, but will instead maintain surf in the 5-6ft range and slow the easing trend. Surf will fade throughout Sunday to around the 3-5ft range.
Winds are finally looking to cooperate on Saturday tending light easterly in the morning and early afternoon, tending light northeasterly later (note: some models picking northeasterly - will keep an eye on it for Friday's notes).
Make the most of this window of opportunity because winds will be more northeasterly tending northwesterly on Sunday.
Next week (Monday 17th onward):
The scenario for Monday's pulse of wind swell has changed slightly since Monday's forecast. Models now show this cut-off low to develop further south and the westerly winds to strengthen as it nears Cape Naturaliste. As a result, the surf will have a shorter period (approx. 10 seconds as opposed to Monday's 13 seconds) with underlying ground swell kicking to around 4-6ft across the South West. Perth and Mandurah will see underlying ground swell in the 1-2ft range.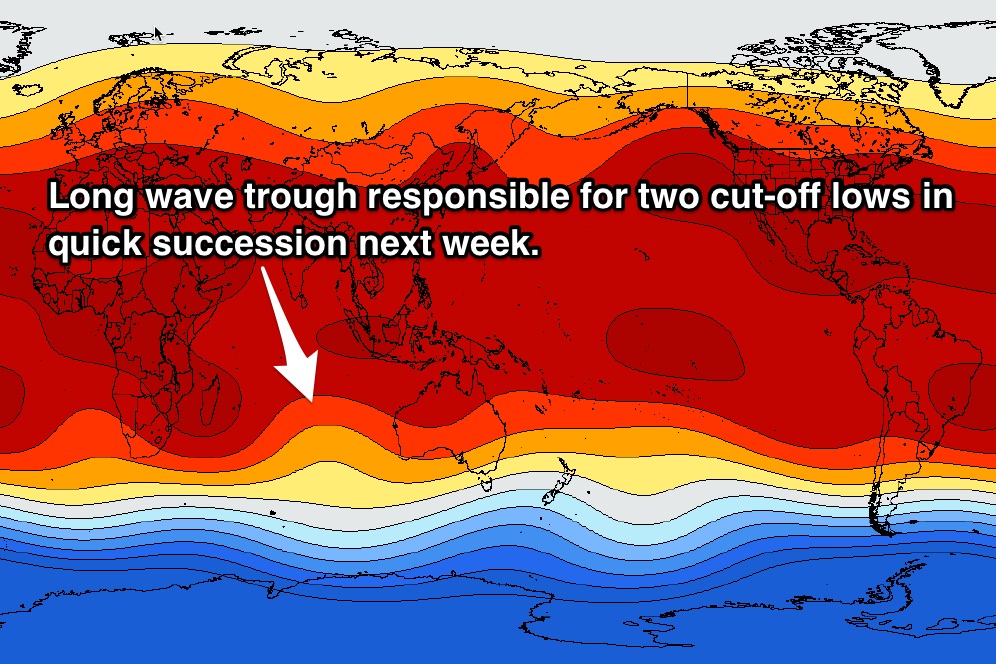 Local winds will be fresh/strong onshore so we are likely to see short range wind swell bump the surf up an additional few feet right across the coast. The quality of the surf will be shocking with junky, stormy, onshore slop with very few options for a decent wave.
The following days don't look much better with practically all models showing a second cut-off system to move over the South West sometime from Tuesday to Thursday. Due to the model uncertainty regarding the timing, it's pretty much impossible to forecast with any accuracy this far out but it's likely to be windy and lacking quality.
We'll look at it in more detail on Friday and hope that a scenario has come into alignment.