Good swells next week but with average winds
Western Australia Surf Forecast by Craig Brokensha (issued Friday 3rd July)
Best Days: Perth early Saturday, Sunday morning, Margs Monday morning, protected spots Wednesday morning, Perth Thursday morning
Recap
New pulse of SW groundswell filled in yesterday with early E/NE winds down across the South West before strengthening from the N'th ahead of a late W'ly change. Perth remained relatively clean with small waves across exposed spots.
This morning, conditions were cleaner across most regions with light variable winds (onshore in the South West) and an easing swell.
This weekend and next week (Jul 4 – Jul 10)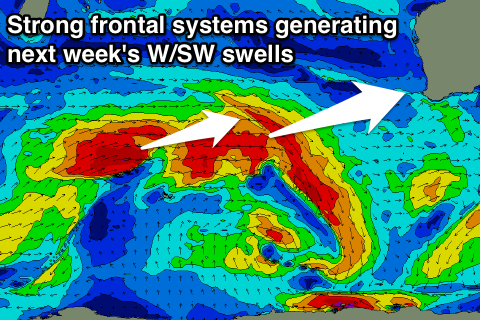 Our new SW groundswell pulse for tomorrow is still on track with winds still also looking poor across Margs. We may see variable breezes before dawn, but a fresh W'ly is due to kick in at first light and persist all day.
Perth should be clean early with variable winds and inconsistent 2ft sets before the W'ly kicks in.
Sunday is now also looking dicey with lingering SW winds across the South West as the swell eases. Perth should see morning SE winds, creating cleaner conditions.
A new W/SW swell pulse is due into Sunday now across the South West, generated by a small and relatively weak low developing to our west-southwest today. This will just soften the easing swell from Saturday.
Come Monday smaller surf is due with variable winds across most locations and an easing swell from the 4ft range in the South West, and 1-1.5ft around Perth.
Into Tuesday, our first pulse of inconsistent and large W/SW groundswell is due to build across the state, with a secondary pulse for Wednesday.
These two pulses are being generated by a couple of vigorous polar frontal systems firing up south-east of South Africa, and projecting a fetch of severe-gale W/SW winds towards us from now through the weekend.
The initial W/SW groundswell pulse will be the least consistent, with it building strongly Tuesday and reaching 8-10ft across the South West, with bigger sets likely on dark, and Perth building to 2-3ft. The North West should increase to 5-6ft late, peaking Wednesday to 6-8ft, more so into the afternoon when the second pulse arrives.
The secondary pulse should be slightly more consistent and peak Wednesday to a similar size in the South West during the morning, easing into the afternoon. Perth should hold in the 2-3ft range all day and then ease into Thursday.
Winds Tuesday are looking average with an approaching front generating fresh to strong W/NW tending SW winds.
Wednesday doesn't look too much better now, with strong S'ly tending S/SE winds due across the South West, and S/SE winds up at Perth. This will leave protected locations with the best waves.
Come Thursday, another approaching front will continue to create poor conditions in the South West with an early variable wind due to freshen from the W/NW during the day. Perth will be the best option with variable winds most of the day.
A new SW groundswell is due Friday from a pre-frontal fetch of W/NW gales attached to a strengthening polar low, with a larger and better S/SW groundswell due into Saturday from the low proper. Winds are still likely to be an issue and from the S/SE next Saturday, but we'll review this Monday. Have a great weekend!