Slow period with favourable winds from Sunday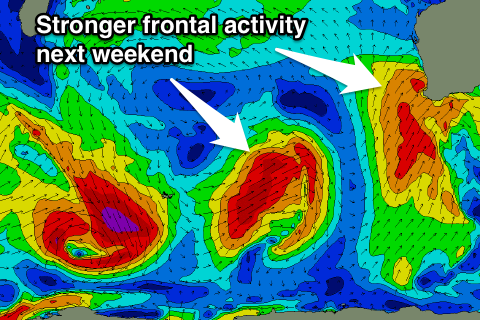 Western Australia Surf Forecast by Craig Brokensha (issued Friday 8th May)
Best Days: South West Sunday morning, Monday morning, Tuesday, Wednesday, Thursday morning
Recap
Fun new SW swell across the South West yesterday with a morning offshore and 3-5ft sets. Perth was tiny to 1-1.5ft with a bit more size around Gero. Today the swell really dropped back away with clean conditions through the morning.
This weekend and next week (May 9 - 15)
Small waves will continue through the weekend, lifting slightly tomorrow to 3ft to occasionally 4ft in the South West, easing back a touch Sunday.
Winds will be average and from the S'th tending S/SW around Margs tomorrow with better E'ly winds Sunday morning.
A couple of better SW groundswell pulses are due into Monday and Tuesday, with Tuesday's being the best of the bunch. Some weak frontal activity to our south-west over the weekend will be the source with inconsistent 3-5ft sets due through Monday, ahead of a better increase to 4-5ft during Tuesday. Perth isn't due to any major size with tiny 1ft waves Monday and Tuesday. Gero should offer better 3ft+ waves Monday and then later Tuesday and Wednesday morning.

Winds will be favourable and offshore each morning next week, swinging more NE into Wednesday and Thursday and then N'ly Friday.
Into the end of the week an inconsistent long-range W/SW groundswell is due, generated south-east of South Africa, but with poor N'ly winds Friday and Saturday there'll be no decent options. Come Sunday a SW change will spoil the backside of the swell.
Into next week some better swell energy is expected as a couple of strong polar systems push up and into us. Winds look onshore for the most part or at least S'ly but we'll review this Monday. Have a great weekend!