Fun weekend down South, rare W/NW swell mid-next week
Western Australia Surf Forecast by Craig Brokensha (issued Friday 16th January)
Best Days: Saturday and early Sunday around Margs, Wednesday morning around Perth and Gero, Thursday morning everywhere
Recap
A small lift in swell was seen through yesterday but winds were less than perfect in the South West, while Perth was cleaner but tiny.
Today the swell was easing slowly with better winds across the South West mid-morning before onshores kicked in.
This weekend (Jan 17 - 18)
A fresh pulse of S/SW groundswell due tomorrow morning across the South West is still on track, with Perth seeing no noticeable increase, while a slight kick in size should be seen late up at Gero and into Sunday morning.
Exposed breaks should offer 3-5ft sets around Margs with good conditions expected under morning E/SE winds. Gero and Perth should see better E/NE winds but no major size. Sunday morning looks dicey with a surface trough due to move in from the west bringing onshore S/SW winds to Gero before dawn, while Perth may see a variable breeze early. Margs looks to be clean with an early offshore before a SW'ly kicks in, therefore the early to mid-morning will be the pick.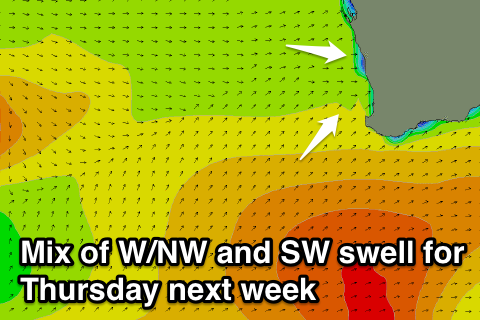 Next week onwards (Jan 19 onwards)
Monday will be poor with easing levels of swell and strengthening onshore NW winds ahead of a cold front in the South West. Further north more variable winds are due early morning around Perth, but with no swell, and then S/SE winds around Gero.
Our rare W/NW groundswell for Wednesday is still on track with Severe Tropical Cyclone Bansi. Bansi is real tight and the fetch of gale to severe-gale winds in our swell window are quite limited. But the slow movement and track towards us should still see a good but inconsistent W/NW groundswell generated, arriving overnight Tuesday filling in Wednesday ahead of a secondary pulse for Thursday.
Size wise we're expecting an inconsistent 3-5ft wave around Margs and Gero with 2-3ft sets in Perth.
Due to the large distance between the source of the swell and our coasts there'll be very long waits between sets so you'll have to be patient. It should also be noted that there should be a weak short-range W/SW swell in the mix Tuesday and Wednesday morning from a cold front clipping the state on Tuesday along with onshore W/SW winds.
Unfortunately Wednesday looks to see lingering onshore SW winds across the South West as another front pushes through, while Perth looks better with a S/SE'ly likely and then SE winds up at Gero. We'll have to confirm this on Monday though as the models are still moving around a lot.
Into Thursday when the secondary W/NW groundswell pulse is due, a moderate sized SW swell is also expected to be in the water, generated by a broad and strong cold front firing up towards us from the Heard Island region early next week. This should offer larger 6ft+ surf in the South West, 2ft waves in Perth and 3-5ft waves around Gero. This mix of swells should offer some interesting wedges across selected locations. Winds may swing S/SE across all locations, but we'll review this Monday. Have a great weekend!