Large stormy weekend; larger cleaner swell late Wed/Thu
Western Australia Surf Forecast by Craig Brokensha (issued Friday 20th June)
Best Days: Protected locations Sunday, Monday morning, Tuesday morning, Wednesday morning, Thursday for experienced surfers
Recap
The South West remained poor yesterday with Wednesday's large easing swell and fresh onshore winds, but further north conditions improved with a more variable breeze and easing swell from 3ft in Perth and a larger 6ft or so around Gero.
Today conditions were even better around Perth and Gero with a light offshore wind and 2ft and 4-5ft of swell respectively. The Margaret River region saw lighter and more variable winds just before dawn but these have strengthened from the N/NW, writing off the surf again.
This weekend (Jun 19 -20)
We're looking at a stormy weekend of large waves across the coast.
A new increase in W/SW groundswell is due tomorrow but with strong N/NW winds but ahead of an afternoon SW change.
Sunday's much larger W/SW groundswell is still on track though, generating by a vigorous mid-latitude frontal system pushing in from above Heard Island towards Indo the last few days.
The Margaret River region should see easy 10-12ft waves, with 3-4ft sets around Perth and 6-8ft+ waves around Gero but with strong SW tending S/SW winds. This will limit the best waves to protected southern bays and corners but there should be a few options around.
This weekend onwards (Jun 21 onwards)
Monday should see improving conditions across all coasts with a drop in swell and E/SE offshores around Perth and Gero with less favourable but better S/SE winds around Margs.
The swell should drop out into Tuesday afternoon as winds remain favourable and offshore around Perth and Gero with more variable winds, but likely light offshores around Margs.
More importantly the large and powerful W/SW groundswell due through later Wednesday and Thursday has been upgraded.
This swell is being generated by one of the largest and strongest frontal progressions we've seen in a long time moving through the South-western Indian Ocean.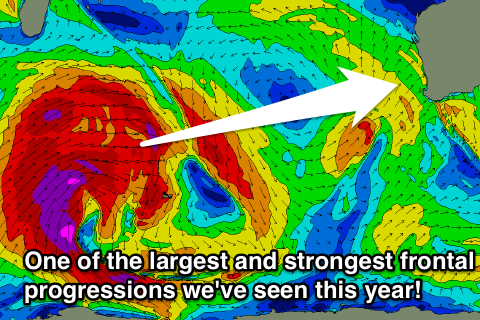 An initial fetch of broad severe-gale W/SW winds has set in motion an active sea state for a secondary much broader and stronger front to move on top of. This will see an additional fetch of severe-gale to storm-force W/SW winds generated, producing an open ocean swell just shy of 50ft.
A large and powerful long-period W/SW groundswell will travel towards us and arrive later Wednesday with a bang, pulsing to 10-12ft on dark in the South West. Further north no considerable increase may be seen until after dark.
But come Thursday morning, the South West should be in the 12-15ft range with 3-4ft+ sets in Perth and 8-10ft waves around Gero.
Winds are still a little unsure but we may see variable breezes setting up across the state, creating excellent to epic conditions. Check back here on Monday for confirmation on this though!