Surf now before the run ends
Victorian Surf Forecast by Craig Brokensha (issued Monday 6th February)
Best Days: Now, keen surfers beaches Wednesday morning but more so Thursday morning
Features of the Forecast (tl;dr)
Inconsistent SW groundswell easing today and tomorrow, with a small-mod sized mid-period S/SW swell for tomorrow PM
Fresh S winds tomorrow (very slim chance light W winds at dawn Surf Coast)
Easing mid-period S/SW swell Wed with light-mod S/SE winds, strengthening into the PM
Easing S/SW swell Thu with mod-fresh E-E/NE winds, tending SE and freshening
Small Fri with light SW winds
Recap
Friday's large mix of W/SW and SW groundswell peaked through the afternoon with surf between 6ft to occasionally 8ft on the Surf Coast magnets with windy but favourable conditions. The best day of surf for a long while and in February!
The weekend saw easing surf in size and power but Saturday morning was still pumping with easing 4-6ft sets on the Surf Coast, back to 3ft yesterday morning.
A new, inconsistent SW groundswell arrived into the late afternoon and this has held this morning with 3-4ft+ sets on the Surf Coast magnets with clean conditions again, but winds will shift S/SW-SW soon.
It's been an incredible run of surf and I'm sure are most content with the quality waves on offer the past week.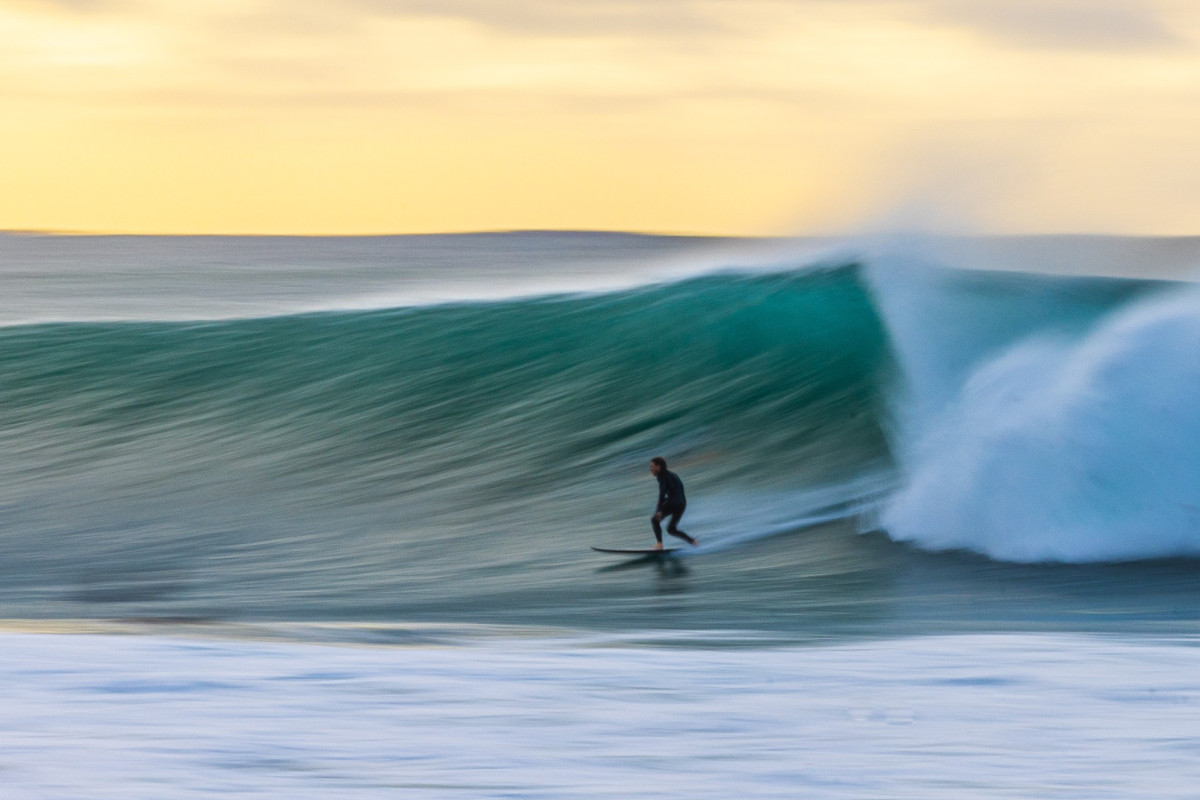 This week and weekend (Feb 7 - 12)
We're looking at an average week of surf, with winds due to remain poor following this morning's change as a ridge of high pressure moves in from the west.
This will bring moderate to fresh S'ly winds into tomorrow (tiny chance for light W winds at dawn Surf Coast) with a mix of easing SW groundswell from today and building mid-period S/SW energy. The mid-period swell is being generated by a relatively weak but elongated polar front projecting north-east, up and across Tasmania this afternoon and evening, with a slim fetch of strong SW winds aimed through our swell window.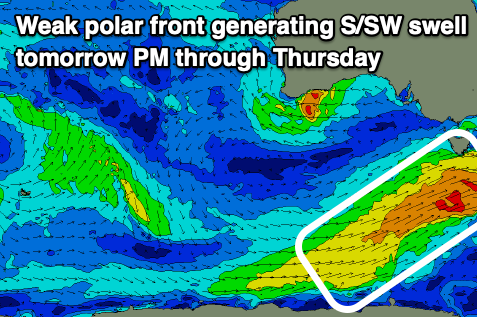 Sets to 3ft should continue across the Surf Coast all tomorrow, easing from 2-3ft on Wednesday with 4ft+ waves to the east.
Winds should ease into Wednesday morning but will remain light to moderate out of the S/SE. This will create bumpy workable winds for the keen on the beaches.
Winds will shift E-E/NE into Thursday morning, creating cleaner, peaky waves on the beaches to the east but with a small, fading S/SW swell from 2-3ft, 2ft on the Surf Coast.
Friday will become smaller and a trough looks to bring unfavourable SW winds. This will be a lay day.
Unfortunately there's nothing significant expected front or polar low wise through over the coming fortnight thanks to an increase in tropical activity off the East Coast and blocking high pressure sitting across Australian latitudes. Therefore make the most of this morning and hit the beaches before the swell drops out.