Out of season Surf Coast waves continue
Victorian Surf Forecast by Craig Brokensha (issued Wednesday 23rd November)
Best Days: This morning Surf Coast, tomorrow morning through early afternoon Surf Coast, Friday morning Surf Coast, beaches for the keen into the afternoon, Saturday on the beaches, Monday morning Surf Coast, Tuesday morning Surf Coast
Features of the Forecast (tl;dr)
Large peak in S/SW groundswell today with winds swinging fresh SW
Easing S/SW swell tomorrow with light-moderate W/NW-NW tending S/SW winds into the PM, strengthening later
Easing S/SW swell Fri with light W/NW tending S then S/SE winds
Small mid-period SW swell for Sat, peaking into the PM with strengthening N/NE winds ahead of a late N/NW change
Small Sun with W/NW-W winds
Moderate sized SW swell for Mon, mixed in with a closer-range source with fresh W/NW W/SW mid-late PM
Further pulses of moderate sized swells next week with W/NW-SW winds
Recap
Our good run of out of season surf continues. For a more detailed look at why we're seeing such cold weather and winter like surf click here.
We saw good reef waves through Monday evening and yesterday with a mid-period SW swell in the 4-5ft range mostly, with the rare bigger one across the Surf Coast magnets, cleanest and best through the morning.
This morning we've got similar sized surf with favourable winds for protected spots, and our stronger S/SW swell has yet to show on the Point Nepean wave buoy yet, but is strong off Cape Sorell. It looks like it's just arrived though with 6ft sets now showing on the Surf Coast, but get out there before winds go SW through the day.
This week and weekend (Nov 24 - 27)
Today's larger pulse of S/SW swell will peak this afternoon and start easing through tomorrow, dropping further through Friday as winds continue to ease and more options open up across the state.
With sets pushing to an easy 6ft across the Surf Coast, 6-8ft to the east today, we should see easing 4ft waves on the Surf Coast tomorrow, 5-6ft to the east. A light to moderate W/NW-NW breeze will favour the Surf Coast and selected spots to the east, with the afternoon becoming bumpy but still fun with a moderate S/SW breeze, strengthening into the evening.
Similar winds are expected on Friday, best on the Surf Coast in the morning and bumpy into the afternoon as winds go S and then S/SE with smaller levels of swell. To the east, winds aren't expected to go N/NE any more unfortunately.
Easing 2ft to possibly 3ft sets are due on the Surf Coast Friday, 4ft on the sets to the east, best into the afternoon on the beaches with that weaker S/SE breeze.
Our reinforcing pulses of mid-period SW swell for late in the day but more so Saturday are on track, with a peak in size due into the afternoon.
A weak low moving east, south of the country is generating a weak fetch of W/NW winds, with slightly stronger polar SW winds. The W/NW fetch will generate a small swell for Saturday morning, to 2ft on the Surf Coast and 3-4ft to the east, but the SW fetch should generate a slightly better increase in size through the late morning/afternoon to 2ft+ and 4ft respectively.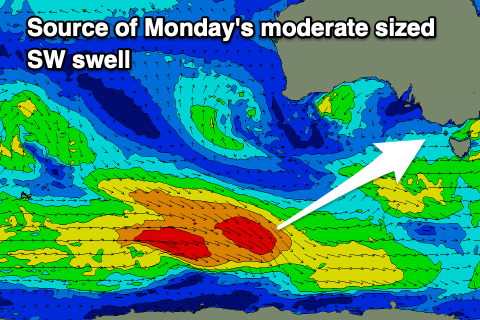 Conditions will be great for the beaches with a N/NE offshore, strengthening through the day and tending N/NW into the evening. This should create a great day of surf on the beaches.
Sunday evening's shift in winds will be associated with a strengthening frontal progression firing up to the south-west of us, bringing moderate sized + levels of swell into next week, but firstly ahead of this we should see a moderate sized, mid-period SW swell for late Sunday, peaking Monday.
This will be generated by a healthy polar frontal system firing up around the Heard Island region today, with a fetch of strong to sub-gale-force W/NW tending W winds due to generate 3ft+ waves on the Surf Coast when it peaks Monday morning, 4-5ft to the east. Winds look favourable with a W/NW offshore, shifting W/SW into the mid-late afternoon. There looks to be some similar sized mid-period energy in the mix as well Monday, generated by a front moving through Saturday/Sunday.
Looking at the frontal progression to follow into early next week, and we should see plenty of size building through Tuesday/Wednesday with winds from the south-western quadrant (W/NW early each morning on the Surf Coast.
We'll have a closer look at this on Friday though.