Focus on next week for a surf
Victorian Surf Forecast by Craig Brokensha (issued Friday 5th August)
Best Days: Tuesday and Wednesday exposed beaches, Thursday morning exposed beaches
Features of the Forecast (tl;dr)
Easing W'ly groundswell tomorrow with moderate W/NW tending gusty S winds mid-afternoon
Small S'ly swell for the Surf Coast Sat PM and Sun with S/SE winds (possibly variable early to the east but small to tiny)
Inconsistent, small W/SW groundswell building Mon PM, peaking Tue with local offshore winds, tending E/NE into the PM
Inconsistent, small mid-period W/SW swell Wed with strengthening N/NE winds
Easing W/SW swell Thu with strong N-N/NE winds
Recap
A small increasing in W/NW swell across the Mornington Peninsula and Phillip Island yesterday, with the latter offering more size with the funky swell direction. Conditions were average though and deteriorated into the afternoon.
Today our small pulse of flukey W'ly groundswell has come in as expected, with clean but slow 1-2ft sets on the Surf Coast, 3-4ft to the east and workable for the keen.
This weekend and next week (Aug 6 - 12)
Looking at the coming weekend and unfortunately there'll be nowhere to recommend for a surf at all across the state.
Today's acute W'ly groundswell will ease overnight and winds will become less favourable for the beaches, moderate W/NW tomorrow morning ahead of a trough and early-mid afternoon S'ly change. The Surf Coast will be clean but tiny and fading from 1-1.5ft, bumpy and average to the east.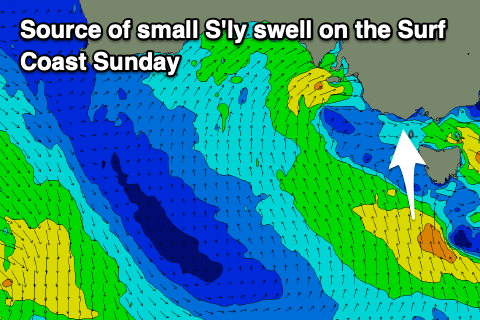 Sunday will be tiny and winds look to linger out of the S/SE in the wake of Saturday's change. There might be a window of variable winds to the east in the morning but there'll be no size to capitalise on. There should also be a hint of S'ly swell (2ft) on the Surf Coast, building Saturday afternoon from weak S/SE winds to the south-west of Tasmania today but conditions will be average with that onshore breeze.
We then look to next week for surfable opportunities across the region. Winds will swing back offshore on Monday for the Surf Coast and from the W/NW, shifting weak S'ly into the afternoon but with no major size.
A new, inconsistent W/SW groundswell is due to build through the afternoon, generated by a distant and short-lived fetch of W'ly gales ahead of a broader polar low. This should provide infrequent 1-2ft waves into the afternoon but with that weak sea breeze, inconsistent 3ft to the east.
This swell is due to peak Tuesday to an infrequent 2ft on the sets across the Surf Coast magnets and 3ft to possibly 4ft to the east along with light, local offshore winds (N/NW Surf Coast, N/NE to the east). Winds will remain out of the eastern quadrant into the afternoon favouring the beaches.
A secondary and slightly better pulse of mid-period W/SW swell is expected on Wednesday, generated by the polar low. A broad but weak fetch of W/SW winds should provide infrequent 2ft+ sets on the Surf Coast magnets with 4ft sets to the east under strengthening N/NE winds. This looks to be the pick of the coming period with Thursday seeing similar gusty N-N/NE winds but with smaller, easing surf.
Longer term it looks like we'll see more mid-latitude lows spawning up towards Western Australia but weakening on approach to us, bringing small, inconsistent W/SW swell energy for next weekend. Winds at this stage look out of the north-west but we'll have a closer look at this next week.
For a more comprehensive run down of why we're having such a bad run of waves, check out this article. Have a great weekend!