Small west swells to dominate
Victorian Surf Forecast by Craig Brokensha (issued Wednesday 15th June)
Best Days: Exposed beaches for the keen Saturday afternoon, exposed beaches for the keen Sunday, Monday and Tuesday exposed beaches (winds pending)
Features of the Forecast (tl;dr)
Tiny windswell for tomorrow PM with strong W/NW tending W/SW then SW winds
Tiny Fri with W/NW tending variable winds
Small, inconsistent mid-period W swell for Sat with W/NW tending variable winds
Small to tiny, inconsistent mid-period W swell Sun with mod-fresh NE winds
Inconsistent W'ly swell building Mon PM, holding Tue and Wed
Fresh NE tending stronger N/NE winds Mon, N/NE tending W Tue
Recap
Fun waves across the Surf Coast yesterday with easing 2-3ft sets on the magnets and great conditions. There were also workable waves to the east with the north in the wind.
Today the swell is smaller and wind affected with a small, flukey S/SW groundswell maintaining 1-2ft sets on the Surf Coast, 2ft+ to the east. This swell will fade through the day as winds strengthen further.
This week and weekend (Jun 16 - 19)
Looking at the coming few days and unfortunately there'll be no real noteworthy surf days to choose from, with better options opening up from Sunday but more so early next week and across the exposed beaches.
Currently a weak mid-latitude frontal system is pushing through the Bight, too far north of our swell window to generate any swell for us. It was expected to dip south-east and generate a weak trailing fetch of W/SW winds through our swell window but now looks to stay north.
This will see the surf becoming tiny into tomorrow on the Surf Coast, possibly reaching 1-2ft into the afternoon with a very weak localised windswell. The low will bring poor, strong W/NW tending W/SW winds through the morning, SW into the afternoon.
Come Friday winds should swing back to the W/NW but there'll be no size, with tiny, clean waves on the Surf Coast.
Into Saturday a small, inconsistent mid-period W/SW swell is due, produced by a weak fetch of W/NW winds moving through our far western swell window, to the south-west of Western Australia. Size wise this looks poor for the Surf Coast with a possible 1-2ft wave on the swell magnets, 3ft on the sets to the east and with a W/NW tending variable wind. Keen surfers should find some OK waves to the east of Melbourne into the afternoon.
From Sunday we'll see a high building to our south-east, between Tasmania and New Zealand. This high will be quite strong and stubborn, blocking a strong mid-latitude frontal progression firing up and across Western Australia.
With the high sitting there the approaching front will weaken while moving east, and we'll see strengthening N/NE winds ahead of change mid-late week. The timing and form of this change is up for grabs as the models try to grapple the incoming instability.
But coming back to Sunday and a moderate to fresh NE breeze is due all day but with easing surf from Saturday, tiny on the Surf Coast and 2ft on the exposed beaches. Later in the day there might be a hint of new mid-period W'ly swell east of Melbourne but Monday through Wednesday are a much better chance for this.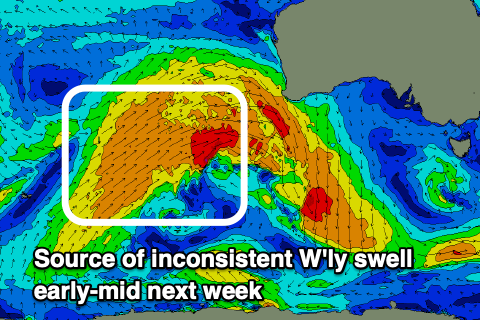 The origins will be the mid-latitude frontal progression pushing up and across Western Australia, with a distant, off-axis fetch of strong to gale-force W'ly winds due to be generated this evening and tomorrow. We should see a brief burst of similar strength winds just south-west of Margaret River Friday morning, helping produce a little more energy.
With the direction and distance, this swell will be inconsistent but we should see a slow increase in size Monday afternoon, peaking Tuesday with a reinforcing pulse Wednesday.
The Surf Coast looks to only offer very infrequent 2ft sets at the peak of the swell with 3-4ft+ surf to the east Monday afternoon through Wednesday.
Those strengthening winds will kick in Monday, NE tending N/NE through the day with N/NE winds on Tuesday ahead of a change at some point. As touched on above the timing is a little unsure so check back here on Friday for a clearer idea.
Looking longer term, the swells look to continue from the west into next weekend and beyond with winds out of the western quadrant. More on this next update.