Winter blasts continue
Victorian Surf Forecast by Craig Brokensha (issued Friday 3rd June)
Best Days: Saturday for the keen Surf Coast, Sunday through Tuesday morning Surf Coast, early Wednesday keen surfers Surf Coast
Features of the Forecast (tl;dr)
Inconsistent, small mid-period W/SW swell tomorrow with strong N/NW winds
Better W/SW swell building Sun with strong N/NW winds
Inconsistent SW groundswell mixed in with W/SW swell Mon (possibly undersized early) with strong W/NW winds
Mix of moderate swells Tue with fresh W/NW tending W/SW winds early PM
Moderate sized mid-period S/SW swell Wed AM, easing with gusty W/SW-SW winds (W/NW early Torquay)
Mod-large S/SW swells developing later week with S/SW-S winds
Recap
Fun surf yesterday with a dropping S/SW swell in both size and energy, easing from 3-4ft in the morning back t 2-3ft during the afternoon across the Surf Coast. To the east conditions were average but improved later as winds abated and tended a little more north.
Today we've got small, weak leftovers on the coast with workable early winds to the east and 2-3ft sets, cleaner on the Surf Coast but 1-1.5ft+.
This weekend and next week (Jun 4 - 10)
Brrrrrr. Cold and windy, that's the outlook for the coming period with our attention being focussed to the west and on the Surf Coast.
Following our first cold outbreak of the season last weekend and earlier this week, we've got another progression of cold fronts and polar air due to make its way up and across us through next week under the influence of a strong node of the Long Wave Trough. This node will be slow moving, taking its time to cross the Tasman Sea and then across New Zealand next weekend.
With this we'll see a procession of cold fronts projected up and across us bringing plenty more snow but swell wise nothing overly strong. More on this below.
Firstly, tomorrow will be the slowest and weakest day of the period with an inconsistent, mid-period W/SW swell due to fill in, providing infrequent 2ft to occasionally 3ft sets on the Surf Coast magnets with 3-5ft waves to the east. Strong N/NW winds will favour the Surf Coast over the Mornington Peninsula.
On Sunday a better pulse of mid-period W/SW swell is due to fill in, produced by a good frontal system projecting up towards the Bight yesterday and last night, with it now weakening south of the Bight. This will be followed by a secondary high riding front which will push a bit too far north for swell generation.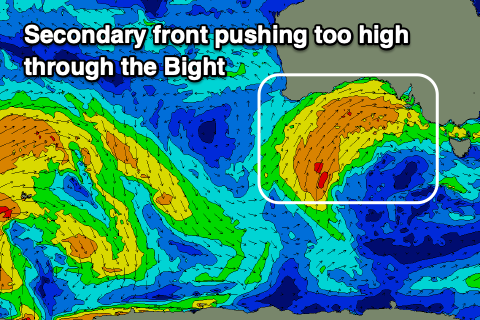 But coming back to Sunday's swell from the initial front, more consistent 3ft surf is due to develop on the Surf Coast into the afternoon with 4-5ft+ sets to the east. Winds will remain strong from the N/NW Sunday ahead of that high riding front in the Bight, with winds shifting W/NW into Monday as it pushes across us in a much more weakened form.
Our inconsistent SW groundswell for Monday is still on track, generated by the earlier stages of the fronts pushing towards the Bight, with a fetch of gale to severe-gale W/SW winds produced through our far swell window.
This swell should fill in Monday (possibly undersized at dawn) but provide infrequent 3-4ft sets on the Surf Coast magnets, 6ft to the east. Those W/NW winds will favour protected spots though.
The trailing frontal activity will be cold but not offer any real strength into Monday/Tuesday/Wednesday and this will result in some additional but weak mid-period S/SW swell, likely only to 3-4ft on the sets across the Surf Coast Tuesday, easing from a similar size Wednesday morning. The Mornington Peninsula looks to come in around 4-6ft.
Locally winds will be favourable from the W/NW on Tuesday, fresh in strength before shifting W/SW into the afternoon, followed by W/SW-SW winds Wednesday (W/NW for a period early around Torquay).
As the node of the Long Wave Trough moves east later next week we'll fall under a strong S/SW flow with additional pulses of mid-period S/SW swell (bigger than Tuesday/Wednesday) but options will be limited. More on this in Monday's update. Have a great weekend!