Early Christmas for Victorian surfers
Victorian Surf Forecast by Craig Brokensha (issued Friday 17th December)
Best Days: Keen surfers early tomorrow exposed beaches, Sunday, Monday Surf Coast, Tuesday morning Surf Coast, Wednesday
Features of the Forecast (tl;dr)
Easing, inconsistent W/SW groundswell tomorrow with strong N/NE tending SW winds around midday
Inconsistent, better W/SW groundswell Sun with moderate N/NE tending fresh W/NW winds
Mid-period W/SW swell Mon with NW tending W/NW and then late SW winds
Moderate sized +, mid-period W/SW swell Tue with W/NW winds, shifting SW mid-late morning and stronger S/SW into the PM
Large, mid-period SW swell Wed with W/NW tending S/SE winds, easing Thu with a distant groundswell in the mix and light S winds
Recap
Conditions were clean at dawn on the Surf Coast yesterday with a small 1-2ft leftover wave but conditions deteriorated shortly thereafter as winds shifted onshore. The exposed beaches to the east were poor while the afternoon provided better conditions as winds eased and some new, inconsistent W/SW groundswell started to fill in.
This morning conditions are much cleaner and better on the beaches with a touch of morning sickness but infrequent 3-4ft sets. The Surf Coast was better and cleaner with fun 2ft+ sets.
This weekend and next week (Dec 18 - 24)
We've got an improvement in the surf and conditions for Sunday opening up more options across the state.
Looking at tomorrow first and today's inconsistent W/SW groundswell will ease this afternoon, dropping further tomorrow leaving leftover, inconsistent 1ft to possibly 2ft sets on the Surf Coast magnets and 2-3ft sets to the east.
An approaching trough will bring strengthening N/NE winds which will create clean though blowy conditions ahead of a strong SW change around midday.
Winds will abate fairly rapidly in the wake of the change Saturday evening, swinging back offshore from the N/NE on Sunday morning, only shifting W/NW into the afternoon as strengthening mid-latitude front pushes in from the west.
Our better W/SW groundswell for Sunday is still on track, generated by a strong polar low moving across the Heard Island region, weakening on approached to Western Australia earlier this week.
It'll be inconsistent but we should see 3ft sets across the Surf Coast and 4-5ft+ waves to the east.
Sunday's approaching cold front will then bring some reinforcing mid-period W/SW swell for Monday to 3ft on the Surf Coast and 4-5ft+ to the east, though into the afternoon we should start to see some stronger swell and size starting to push in from stronger winds within the mid-latitude frontal progression. We may see sets reach 3-4ft on dark across the Surf Coast but winds look to shift SW after blowing out of the NW-W/NW most of the day.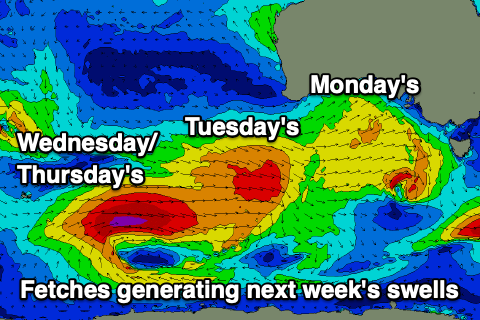 This strengthening mid-latitude frontal progression will be ahead of a stronger polar low forming south-west of Western Australia on the weekend.
The models were divergent regarding the strength and structure of the system but it looks like we have met half way. The polar low will generate a great fetch of severe-gale W/SW winds in our medium-range swell window, but as it moves under the country a great, elongated fetch of W/SW gales will be produced on top an active sea state, generating a more consistent, larger mid-period swell.
Timing wise, the mid-period energy will arrive ahead of the longer-range groundswell with the former peaking Wednesday and the long-range energy peaking Thursday morning. On Tuesday there'll be some weaker W/SW swell in the mix, coming in around the 4ft range on the Surf Coast, 6ft+ to the east.
Wednesday should see larger 5-6ft surf on the Surf Coast and 8ft sets to the east, with Thursday easing back from 3-5ft and 6-8ft respectively.
With the frontal activity pushing up and across us winds will remain favourable for protected spots with a morning W/NW breeze on Tuesday, shifting SW mid-late morning and then strengthening from the S/SW into the afternoon.
Wednesday should see light W/NW winds ahead of S/SE sea breezes. Thursday at this stage is a little dicey with possibly lingering S'ly winds, but we'll have a closer look at this next week and hopefully see more variable winds develop.
The surf will fade into the end of the week as winds shift more SE and come the Christmas weekend it looks like we'll see morning E/NE winds but with no real swell in the water, just some weak, peaky SE windswell. More on this Monday. Have a great weekend!