Troughy forecast with improving beachy options on the weekend
Victorian Surf Forecast by Craig Brokensha (issued Wednesday 8th December)
Best Days: Sunday morning on the beaches, Monday on the beaches for the keen, Wednesday morning on the beaches
Features of the Forecast (tl;dr)
Strong S/SE winds tomorrow with a new, inconsistent mid-period SW swell and SE windswell
Easing mix of swells Fri with mod S/SE tending fresh S/SE winds
Mod sized S/SW groundswell building late Fri, easing Sat with mod SE tending S/SE winds (possibly E/SE for a period in the AM)
Easing mix of swells Sun with E/NE tending S/SE winds
Small leftovers Mon with mod-fresh N/NE winds ahead of a late SW change
SW tending SE winds Tue
Weak, new W/SW swell Wed with NE tending SE winds
Recap
There was a window of light winds yesterday morning on the Surf Coast but the surf was tiny and conditions quickly deteriorated as a trough moved through bringing stronger SW winds.
Today winds are fresh to strong out of the S'th and the swell minimal in size and energy.
This week and weekend (Dec 9 - 12)
The end of the week will remain poor for surfing as we see the trough linked to yesterday's change deepens into a low off the southern NSW coast over the coming days and into the weekend. A high trying to edge in from the west will setup a tightening pressure gradient across the state bringing strong S/SE winds through tomorrow along with a junky mix of swells.
Some inconsistent mid-period SW energy and weaker SE windswell are due tomorrow coming in at 2-3ft on the Surf Coast and 3-5ft to the east.
This swell will ease through Friday and winds look to ease a little but still be moderate to at times fresh from the S/SE.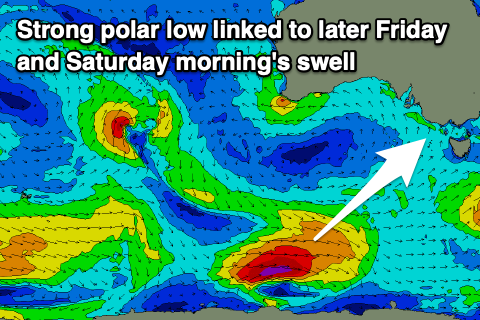 Into Friday afternoon, our new pulse of S/SW swell is due to fill in, and this is now looking a little stronger in period and size.
The source of this swell is a polar low that formed south of Western Australia yesterday, with a tight fetch of gale to severe-gale W'ly winds being generated overnight, weakening today as it pushes further east.
This will produce a decent S/SW groundswell that should kick to a good 3ft+ across the Surf Coast later Friday and 4-5ft to the east, peaking overnight and easing Saturday from 3ft and 4ft+ respectively.
Winds will start to improve on the weekend and shift more SE, moderate in strength as the high starts to slide in under us and the low pushes slowly east into the Tasman Sea.
There might be a period of E/SE breezes east of Melbourne but generally conditions will be bumpy and average.
Sunday looks better as winds improve further, shifting E/NE through the morning and with a little less swell. The easing trend from Saturday looks to be slowed a little by weaker, trailing frontal activity in our southern swell window tomorrow.
The Surf Coast should ease back from 2ft+ with 3-4ft sets to the east and there'll still be small levels of SE windswell in the mix.
Monday is still the cleanest of the period with a moderate to fresh N/NE breeze but the swell will be at a low point coming in at an inconsistent 1-2ft max on the Surf Coast and 2ft to occasionally 3ft to the east.
As touched on in Monday's update we'll see another trough move in later in the afternoon next Monday with SW winds due into Tuesday. This trough looks very weak in nature and winds look to revert back to the NE on Wednesday ahead of another trough Thursday/Friday.
Swell wise, there's nothing too major on the cards with a weak, mid-period W/SW swell due Wednesday which will favour the beaches, ahead of an inconsistent W/SW groundswell Friday. More on this in the next update.