Building surf in size and power with winds from the northern quadrant
Victorian Surf Forecast by Craig Brokensha (issued Monday 30th August)
Best Days: Exposed beaches for the keen tomorrow, Wednesday, Thursday for experienced surfers, Friday, Saturday morning Surf Coast, Sunday Surf Coast
Recap
Features of the Forecast (tl;dr)
Inconsistent, small W/SW groundswell tomorrow with strong N/NE winds, easing later and tending N/NW on the Surf Coast
Mid-period, moderate sized W/SW swell possinly showing late tomorrow, peaking Wed AM, with a further small kick in size through the PM. Variable, local offshore tending NE winds
Mod-large W/SW groundswell for Thu AM, with a secondary pulse for the PM with strong N/NE winds
Easing W/SW groundswell Fri with fresh NW winds (possibly N'ly at dawn)
Moderate sized, reinforcing W/SW groundswell for Sat PM with W/NW tending gusty SW winds
Easing W/SW groundswell Sun with W/NW winds
Recap
Small, fading surf from late last week through Saturday with clean conditions on the beaches, bottoming out yesterday with the odd little 2ft set left on the Mornington Peninsula.
Today, a slight increase in new, inconsistent W/SW groundswell has filled in with 2ft sets on the Surf Coast and better 3-4ft waves to the east with a continuation of favourable winds. Winds should remain favourable all day for both regions (N/NW Surf Coast and N to the east).
This week and weekend (Aug 31 – Sep 5)
We'll see a secondary pulse of similar sized (to today) and similarly inconsistent W/SW groundswell filling in tomorrow, generated by a distant and not overly strong fetch of pre-frontal W/NW winds through the south-east Indian Ocean last week. The Surf Coast should continue to offer inconsistent 2ft sets on the swell magnets, 3-4ft to the east.
Winds will be stronger but favourable for selected beaches, strong from the N/NE, backing off late in the day and shifting N/NW on the Surf Coast (N on the Mornington Peninsula and Phillip Island).
Now, later in the day we may see some new mid-period W/SW swell arriving across the state, but Wednesday is when we'll see the size ahead of even stronger levels of groundswell Thursday.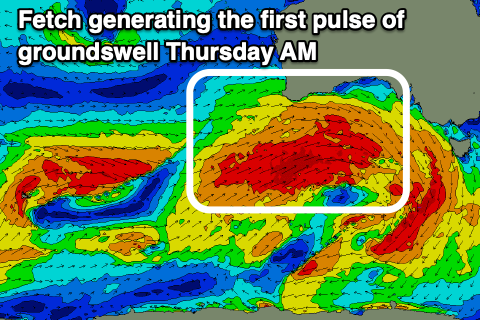 The source of all this swell is a vigorous frontal progression that's currently pushing up and under Western Australian. We've seen an initial fetch of W'ly gales push through our western swell window generating later tomorrow's and Wednesday morning's mid-period W/SW swell.
On top of this a stronger and better aligned fetch of severe-gale W/SW winds are pushing in under Western Australia, weakening while pushing under the Bight tomorrow while slipping south-east on approach to Tasmania.
This stronger fetch will generate a larger, stronger W/SW groundswell that might be seen on dark Wednesday but more so Thursday.
Looking at the expected sizes, Wednesday should around 3-4ft across the Surf Coast in the morning, with the odd bigger one on the magnets and 6ft surf to the east, building a little further later in the day ahead of Thursday's groundswell which looks to come in at 4-6ft on the Surf Coast and 8ft on the sets across the Mornington Peninsula.
Into the late afternoon Thursday, a secondary, reinforcing pulse of W/SW groundswell is due, generated by a secondary fetch of severe-gale W/NW winds pushing under Western Australia, tending more NW and at right angles to our swell window while reaching storm-force in strength.
This should keep the swell up around a similar size to the morning (4-6ft Surf Coast - 8ft to the east), before easing back through Friday from 4-5ft+ and 6-8ft respectively on the Surf Coast and Mornington Peninsula.
Looking at the local winds, and as pointed out last week, with the progression dipping south-east on approach to us we'll see favourable winds for selected locations, blowing from the northern quadrant.
A variable, local offshore winds is due Wednesday morning (NW Surf Coast and NE to the east), tending NE across all locations into the afternoon (possibly more E/NE across Phillip Island).
When the largest size is due on Thursday, strong N/NE winds will create tricky though pumping conditions across selected breaks, with fresh NW winds on Friday (possibly N'ly for a period early east of Melbourne).
Moving into Saturday winds will become less favourable and W/NW through the morning ahead of a gusty SW change and the swell will ease off further from Friday. Wave heights look to steady with a reinforcing W/SW groundswell due into the afternoon, produced by a final vigorous but less favourably aligned polar front pushing up and into Western Australia.
A great fetch of SW gales will be projected through our western swell window, with the swell due to pulse to 3-4ft+ on the Surf Coast into the afternoon, 6ft to the east but with that SW change. The morning looks to be smaller and more to 3-4ft and 5-6ft respectively.
We may see winds shift back to the W/NW on Sunday as the swell eases, with a late change and S'ly winds due Monday as a high pushes in from the west.
Longer term it looks like winds will remain onshore from the S'th Tuesday as the high continues to fill in, likely improving Wednesday for the beaches with a new groundswell, but more on this Wednesday.