Good swell to end the week as conditions slowly improve
Victorian Surf Forecast by Craig Brokensha (issued Wednesday 25th August)
Best Days: Tomorrow afternoon keen surfers east of Melbourne, east of Melbourne Friday morning, exposed beaches Saturday morning, exposed beaches Monday afternoon and Tuesday
Features of the Forecast (tl;dr)
Moderate sized SW groundswell tomorrow with mod-fresh S/SE winds, easing and tending SE west of Melbourne, mod SE and tending light to the east in the PM
Easing S/SW groundswell Fri with E/NE tending fresh E/SE winds
Fading swell Sat with strengthening N/NE winds
Tiny Sun with fresh NE tending NW winds
Infrequent, small W/SW groundswell for Mon with N/NW tending N/NE winds
Slightly better, small W/SW groundswell for Tue with strong N winds
Better W/SW swells filling in mid-late week with winds from the northern quadrant
Recap
A good new W/SW groundswell filled in yesterday but strong onshore winds tore it to shreds, leaving nowhere with a clean, sizey wave. Today the swell has eased along with persistent, strong onshore winds, creating even poorer conditions.
This week and weekend (Aug 26 - 29)
The source of our strong onshore winds out of the south is a 'bombing' low that formed off the southern NSW coast yesterday. This low is squeezing a strong high to our west, resulting in a block on our main swell windows, with the trickle down effect of this being seen into the weekend following tomorrow's SW groundswell.
Looking at the low and the high though, we'll see the high trying to push in from the west as the low remains stubborn and near stationary through the end of this week, lingering in the Tasman Sea through the weekend.
This will result in a slow improvement in local conditions with tomorrow due to still be mostly average. A moderate to fresh S/SE breeze is due on the Surf Coast, easing back to moderate and swinging SE into the afternoon, with slightly weaker winds to the east, becoming lighter into the afternoon. This will create improving conditions east of Melbourne into the afternoon but keep your expectations low.
Swell wise, a good polar frontal progression that moved under the country the last couple of days should produce a moderate sized SW groundswell for tomorrow, coming in at 3-5ft on the Surf Coast and 5-6ft+ to the east. We'll likely see some mid-period swell from the same source kicking this afternoon.
The swell will start easing Friday from a more S/SW direction, easing from 3ft+ on the Surf Coast and 4-5ft to the east as winds improve a touch further. We should see winds tend E/NE through the morning east of Melbourne, creating improving conditions which will be best ahead of afternoon sea breezes from the E/SE.
Saturday looks nice and clean on the beaches with a freshening N/NE breeze as the high pushes in further from the west, but the swell will be fading from 2ft on the Surf Coast magnets, 3ft or so to the east.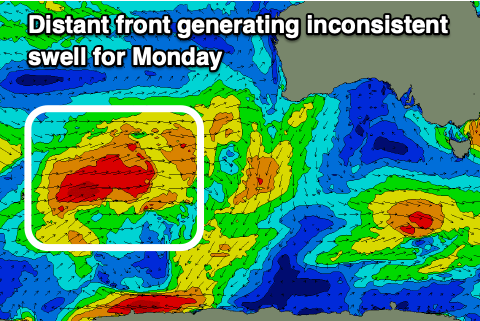 Sunday will be even tinier and with NE tending NW winds as a weak trough moves through. The models are picking up a new long-period signal on Sunday but it'll be W in direction and generated by a distant storm in the Indian Ocean, providing no real size.
A slightly better but still small and inconsistent W/SW groundswell is due to fill in Monday, generated by a distant storm firing up around the Heard Island region today. This will project a fetch of W/SW gales through our far swell window, producing very inconsistent swell for Monday coming in at 2ft or so on the Surf Coast and 3ft to occasionally 4ft to the east. Winds are a little tricky but could improve, swinging N/NW to N/NE through the day, favouring more exposed beaches. More on this Friday.
Behind this distant storm firing up today around Heard Island, a secondary frontal system should produce strong to gale-force W/NW winds and a slightly better, though still small, W/SW groundswell for Tuesday morning, This looks to be 2ft+ on the Surf Coast and 3-4ft+ to the east along with strong N'ly winds.
Of greater importance is a better, broader and closer polar frontal progression firing up towards the country from the weekend into early next week. The structure and make up of this progression is still in the air but we'll likely see an initial, broad polar front fire up to the south-west of Western Australia, generate a moderate sized W/SW groundswell for later Wednesday but more so Thursday, with a secondary pulse for Friday and with favourable N'ly winds as the progression slips south-east on approach to us.
More on this in the coming updates though.