Smaller, fun swells ahead of a larger swell early next week
Victorian Surf Forecast by Craig Brokensha (issued Wednesday 18th August)
Best Days: Thursday, Friday exposed beaches in the morning for the keen, Sunday and Monday Surf Coast, Tuesday protected spots, Wednesday morning Surf Coast
Features of the Forecast (tl;dr)
Inconsistent W/SW groundswell for tomorrow, likely peaking into the PM with N/NW tending N/NE-NE winds
Easing W/SW groundswell Fri with strong N/NE tending N/NW winds
Inconsistent W/SW swell building Sat PM, with a secondary, mid-period W/SW swell for Sun
Strong NW tending weaker W/NW winds Sat, strong N/NW tending NW winds Sun
Mid-period W/SW swell for Mon AM ahead of some new swell into the PM with strong NW tending W winds
Mod-large W/SW groundswell for Tue AM, easing after with W/NW winds
Easing swell Wed with NW tending SW winds
Recap
Monday's large swell eased back into yesterday morning but the surf was still large and to 5-6ft on the Surf Coast, 6-8ft to the east. Conditions were lumpy and best in protected spots on the Surf Coast, similar to the east but still wind affected.
Today cleaner conditions are being seen across a wide majority of locations but with the swell dropping back from 3ft+ on the Surf Coast and 4-5ft+ to the east. Winds will hold from the NW all day favouring locations west of Melbourne.
This week and weekend (Aug 19 - 22)
We'll see the swell from early in the week continuing to ease in size and power during today, fading further tomorrow as a new, infrequent W/SW groundswell takes its place.
Now, this tricky groundswell was generated by an unfavourably aligned fetch of gale to severe-gale NW winds tracking south-east from the Indian Ocean on Sunday and Monday.
The fetch was primarily aimed towards the Antarctic Shelf but we should see some decent swell spreading out radially towards as, arriving from the W/SW tomorrow. It'll be inconsistent and likely peaking through the day/afternoon and a touch undersized at dawn.
Size wise, the Surf Coast should peak at 2-3ft (more so 3ft on the swell magnets) with 4-5ft+ sets on the Mornington Peninsula. Conditions will be great across most locations as well with a morning N/NW breeze due swing N/NE-NE into the afternoon providing plenty of quality options.
The models are incorrectly combining mid-period energy with the new groundswell and over-forecasting the raw swell size and period, so keep this in mind if using this to work out where you'll likely surf.
Friday will see the groundswell easing back in size, likely from 2ft+ on the Surf Coast and 3-4ft to the east under tricky, strong N/NE winds, tending N/NW into the afternoon.
Moving into the weekend and Saturday will start small and slow with a low point in swell, but into the afternoon, a new, inconsistent W/SW groundswell is due to build through the day, peaking into the late afternoon.
This swell has been generated by a short-lived but strong low firing up south-west of Western Australia yesterday, with it weakening today. It'll be inconsistent but sets should reach an infrequent 2-3ft on the Surf Coast magnets into the mid-late afternoon, 3-5ft to the east but with strong NW winds, shifting W/NW while easing into the afternoon.
The shift in winds will be related to a mid-latitude front moving in from the west, weakening on approach.
Before it weakens, a fetch of strong to gale-force will be projected through our western swell window south-west of WA, producing a slightly more consistent, mid-period W/SW swell for Sunday, with some less consistent, slightly better period swell for Monday morning.
The Surf Coast looks to be 2-3ft on Sunday with 4-5ft surf to the east along with strong N/NW tending NW winds. Monday morning will see a touch more energy with 3ft sets on the Surf Coast and 4-5ft waves to the east with a strong NW'ly, shifting W'ly into the afternoon.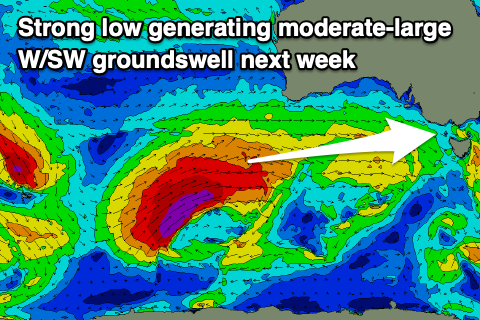 We then look at the strong polar low firing up behind this mid-latitude front, with it initially due to be favourable in strength and track before pushing north of our swell window, up into South Australia in its later stages.
This will limit the size and we're expecting a moderate-large W/SW groundswell for Tuesday. With a fetch of gale to severe-gales projected through our western swell window, we should see good sets to 4-5ft+ on the Surf Coast magnets, 6-8ft to the east.
Winds at this stage are looking favourable for protected spots and W/NW on Tuesday when the swell peaks, and NW Wednesday morning as it eases.
Following this swell, polar frontal activity may generate some good, reinforcing S/SW groundswell late week with winds swinging SE and then E, but more on this Friday.