Friday, 9 October 2020
OK weekend, stronger, better west swells next week
Victorian Surf Forecast by Craig Brokensha (issued Friday 9th October)
Best Days: Tomorrow morning, Sunday morning Surf Coast for the keen, Monday, Tuesday, Wednesday selected spots, Thursday morning
Recap
Clean conditions early across the Mornington Peninsula yesterday but a little listless and weak to a peaky 3ft+, much better on the Surf Coast beaches with clean, peaky and semi-pumping 3ft peaks most of the day.
Today the SE windswell has eased, and we've got a new mid-period W/SW swell on the build, only a small 2ft this morning but we should see the Surf Coast reaching 3ft+ through this afternoon as winds shift W/SW.
This weekend and next week (Oct 10 - 16)
This afternoon's building W/SW swell is linked to a deepening mid-latitude low moving south-east across us, but this will clear off this evening, resulting in the swell dropping tomorrow as a very inconsistent new W/SW groundswell fills in (discussed in Monday's and Wednesday's notes).
A mix of swells to an infrequent 2-3ft are due on the Surf Coast magnets tomorrow, 4-5ft to the east and with a morning NW breeze, shifting W/NW and then SW later afternoon.
Sunday looks similar if not slightly smaller in size and with a morning W/NW breeze, shifting S/SW late morning.
We then look at the larger, back to back, long-period W/SW groundswells due through early next week.
The first swell which may be seen right on dark Sunday is due to fill in overnight and peak Monday morning. This has been and is still being generated by a great frontal progression that formed around the Heard Island on Wednesday. A fetch of initial gale to severe-gale winds were produced, weakening slightly while projecting towards Western Australia. The storm has now broken down south-southwest of WA and we'll see the inconsistent W/SW groundswell making its way towards us on the weekend.
The peak on Monday should provide inconsistent 4-5ft sets on the Surf Coast magnets, but expect surf mostly to 3-5ft with 6ft to occasionally 8ft sets on the Mornington Peninsula. We may see a slight drop in size later in the day and winds should be favourable and out of the N/NE most if not all of the day.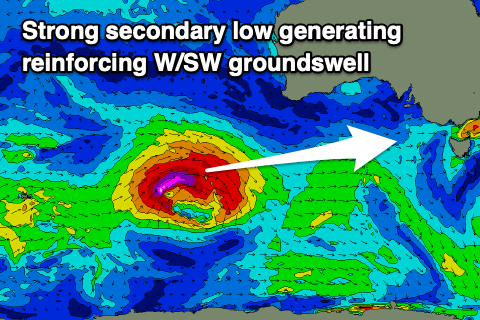 A slightly larger, longer-period W/SW groundswell will fill in Tuesday, generated by a tighter and more intense low pushing towards us over the coming days from just north of the Heard Island region.
This swell will have a touch more west in it, but with severe-gale to storm-force W/SW winds moving through our swell window, on top of an active sea state we'll see strong and powerful surf into Tuesday, likely peaking through the afternoon.
The westerly direction will keep it inconsistent with the Surf Coast magnets due to build to 4-6ft on the sets through the afternoon (smaller in other protected spots) with strong 8ft sets on the Mornington Peninsula.
Winds should be OK early and light N/NW but a trough moving in from the west will bring a mid-morning S'ly change and deteriorating conditions. The change doesn't look overly strong though, so there should be quality options still available.
Wednesday will see the W/SW groundswell easing but swinging a touch more SW in direction owing to the swell producing low moving more into our south-western swell window as it weakens. Winds should improve and swing E/NE, possibly even NE through the late morning with easing 3-5ft sets on the Surf Coast, 5-6ft+ to the east.
Thursday morning looks fun for the beaches as winds strengthen from the N/NE-N, shifting N/NW ahead of a stronger trough and S/SW change through the afternoon. We'll confirm this and a follow up S/SW groundswell for next weekend on Monday though. Have a great weekend!