Monday, 10 August 2020
Down, down, down
Victoria Forecast by Craig Brokensha (issued Monday 10th August)
Best Days: Exposed beaches tomorrow
Recap
Poor surfing conditions all weekend on the coast with fresh onshore winds from the E/SE-SE and a mix of swells.
Today conditions remain poor and smaller on the Surf Coast, better to the east with 3-5ft of inconsistent SW groundswell and on the improve...
This week and weekend (Aug 11 - 16)
The run of gusty onshore and out of season east-southeast winds across the state over the weekend and into today were linked to a broad inland low drifting south-east across the country. The low moved offshore of the southern NSW coast on the weekend and deepened, but this is now moving off to the north-east and this will result in an improvement in winds and conditions tomorrow.
Unfortunately we'll be looking at smaller and fading surf, with easing inconsistent 2ft sets on the Surf Coast magnets, 3ft to possibly 4ft to the east but with a freshening N/NE breeze.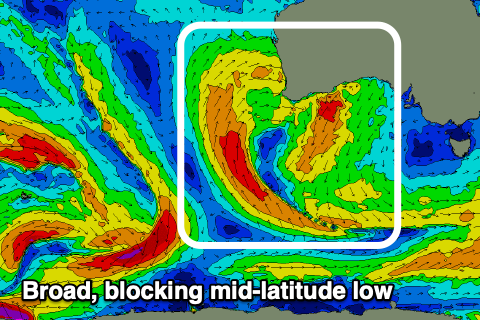 Over across Western Australia another mid-latitude low is extending from Exmouth to Tasmanian latitudes and this is putting a big block across our major swell windows.
The low will slowly move east this week while weakening, but behind it there are no major swell generating systems on the cards.
Another pair of mid-latitude systems moving through the Indian Ocean and towards WA are expected to split with the swell generating properties from this source being minimal.
So what we can expect is the surf to bottom out over the coming days as winds persist out of the north as the mid-latitude low edges in from the west.
Fresh N/NE breezes are due to persist Wednesday, easing in strength a little Thursday but we'll be looking at small to tiny waves even across the exposed beaches.
Local offshore tending N/NE winds are on the cards for Friday but with no change in the swell situation. We'll be relying on very inconsistent background swells from the Indian Ocean, and there's nothing significant on the cards from these areas.
The weekend isn't looking any better and winds will shift NW to SW in any case, writing off the open beaches. This will be as the weakened mid-latitude low moves across us but bringing no additional swell.
The models then diverge into Sunday and early next week regarding the possible deepening off the mid-latitude low across WA as it moves in from the west.
This could sit too far north to generate any decent westerly energy with winds from the north-western quadrant. More on this and the outlook into the end of the week on Wednesday and Friday.