Wednesday, 3 June 2020
Fun end to the week, new swells for the weekend.. but the winds
Victoria Forecast by Craig Brokensha (issued Monday 1st June)
Best Days: All locations from late morning tomorrow, Friday Surf Coast, Monday, Tuesday possibly on the beaches
Recap
The surf cleaned up nicely across the Surf Coast yesterday after Monday afternoon's nasty change, with a mix of SW groundswell and localised windswell coming in around 3-4ft. Conditions remained favourable in protected spots into the afternoon as the swell eased a touch.
Today we've seen a strong cold front push up and into us, bringing strong onshore winds mixed in with a new SW groundswell which will then be replaced by a larger S/SW groundswell this afternoon. There's also windswell in the mix and we should see the Surf Coast reaching 5-6ft this afternoon and 8ft on the Mornington Peninsula as winds shift more towards the S'th and ease a touch.
This week and weekend (Jun 4 - 7)
The mix of swells building this afternoon were generated by a great fetch of severe-gale to storm-force W/SW winds moving through our swell window the last couple of days, plus an additional front spawning off this storm and pushing up and into us last night.
We'll see the mix of swells peaking overnight and easing back through tomorrow, dropping from 4-5ft+ on the Surf Coast swell magnets and 6-8ft on the sets across the Mornington Peninsula.
Conditions will improve through the morning and likely be really fun into the afternoon as a light to possibly moderate dawn S'ly breeze eased and becomes variable late morning and remains so into the afternoon.
Friday will then be best on the Surf Coast with a NW tending W/NW breeze as the swell continues to ease from 3ft, 4-5ft to the east.
Our mix of SW and S/SW groundswell for later Friday and Saturday are still on track.
A pre-frontal fetch of strong to gale-force NW winds should produce a small pulse of SW swell for later Friday and Saturday morning, but a secondary fetch of polar W tending W/SW gales in our southern swell window should produce a better S/SW groundswell for the afternoon.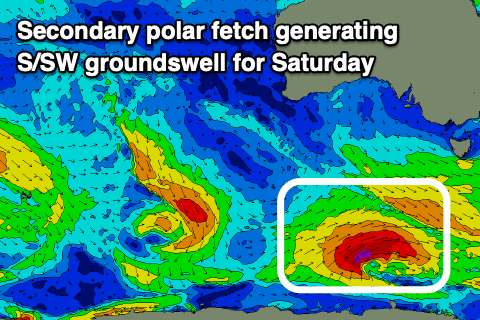 Size wise the Surf Coast looks to be 3ft or so on Saturday morning, with the new S/SW groundswell kicking to 3ft to likely 4ft through the day, with 4-5ft sets on the Mornington Peninsula, kicking to 5-6ft through the afternoon.
Unfortunately our onshore change for Saturday is still on the cards as a surface trough slides up from the south bringing moderate S/SE winds, shifting S/SW into the afternoon.
Sunday isn't any better as winds revert back to the S/SE as the mix of swells ease slowly from 3ft and 4-5ft respectively.
More variable winds are likely on Monday (tending N/NW-NW) ahead of weak sea breezes. The swell will be on a slow easing trend, with some small reinforcing mid=period S/SW energy from a weaker polar front moving in behind the stronger low Saturday. The Surf Coast should still offer 3ft sets, 4ft+ or so to the east in the morning before easing.
Longer term a large blocking high will slowly move in from the west next week as strengthening polar storms squeeze its southern flank. We may see some fun S/SW groundswell spreading up from this activity mid-late week, but we'll have a closer look at this Friday.