Friday, 29 May 2020
Persistent westerly swells with plenty of surfing options
Victoria Forecast by Craig Brokensha (issued Friday 29th May)
Best Days: Exposed beaches Saturday, Surf Coast Sunday, exposed beaches Monday morning, Surf Coast Monday
Recap
The westerly groundswell generated under WA and north of our swell window was significant and long-period enough to diffract into Bass Strait later Wednesday and yesterday morning with inconsistent but clean 2-3ft sets across the magnets, easing through the day.
This morning we've got a less consistent long-range groundswell in the mix to 2ft+ or so on the Surf Coast and 3-4ft to the east. Conditions are generally clean but will improve further on the Mornington Peninsula through the afternoon.
This weekend and next week (May 30 – Jun 5)
Two tricky westerly groundswells down and a few more to come.
In general the weekend is looking OK but not great. Tomorrow will be windy and tricky on the Mornington Peninsula, and then clean on the Surf Coast Sunday but on the small and slow side.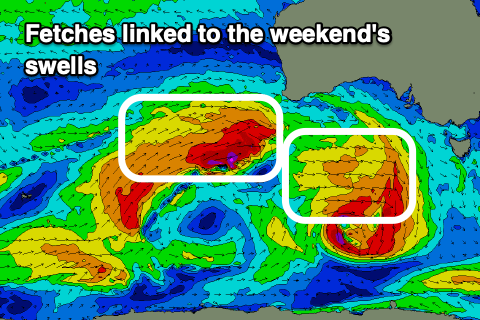 A new mid-period W/SW swell is expected tomorrow, generated by the first of two south-east tracking frontal systems from under WA. A short-lived fetch of strong to near-gale force W/NW winds briefly moved through our western swell window, producing a small reinforcing swell to 2ft to occasionally 3ft on the Surf Coast and 4-5ft to the east.
Strong N/NE winds will create tricky and blustery conditions at times, especially into the afternoon.
A secondary patchy fetch of less favourable though stronger W tending W/NW gales, tracking less ideally through our swell window today should produce a reinforcing W/SW groundswell for Sunday but only to 2ft to possibly and 3-5ft respectively. Winds will also shift NW and ease back strong-ish to fresh in strength during the day, favouring the Surf Coast.
So in general the weekend looks to hover between 2ft and sometimes 3ft on the Surf Coast, and 3-5ft on the Mornington Peninsula.
Now, the mid-latitude frontal progression linked to the strong winds on the weekend is looking a little better for swell generation on Monday, with a broad and elongated fetch of strong W'ly winds aimed through our western swell window.
A new mid-period W/SW swell is due Monday from this source with 2-3ft sets on the Surf Coast and 4-5ft+ waves to the east, while there might be a touch more size into the afternoon from a more SW component of the swell filling in.
Winds are interesting as a small embedded low forms in the progression just west of us Monday and stalls. This will bring fresh to strong N/NE winds early, shifting more N/NW through the day while easing ahead of an evening S/SW change as the low then pushes east.
Depending on how fast this low moves east, we may see lingering strong onshore SW winds into Tuesday morning with a mix of swells to 3-4ft on the Surf Coast and 5-6ft to the east. If the low moves off quicker, a shift back to W/NW winds is likely through the morning, but we'll have to review this on Monday.
The stronger polar storm mentioned Wednesday, following the mid-latitude progression is still on the cards, with a moderate sized S/SW groundswell on the cards for late week. Winds could become variable as a high moves in from the west. More on this Monday. Have a great weekend!