Wednesday, 5 February 2020
Plenty of swell on the way, but conditions will be generally average to poor
Victoria Forecast by Craig Brokensha (issued Wednesday 5th February)
Best Days: Selected spots tomorrow, Friday morning keen surfers, Monday morning on the beaches
Recap
Easing surf from 3ft or so yesterday on the Surf Coast, 4-5ft to the east with onshore winds but workable waves for the desperate, smaller and to 2ft this morning on the Surf Coast, 3ft to occasionally 4ft to the east.
This week and next (Feb 6 – 14)
Our strong new S/SW groundswell due tomorrow is still on track, with the polar low linked to it now passing under Tassie while weakening.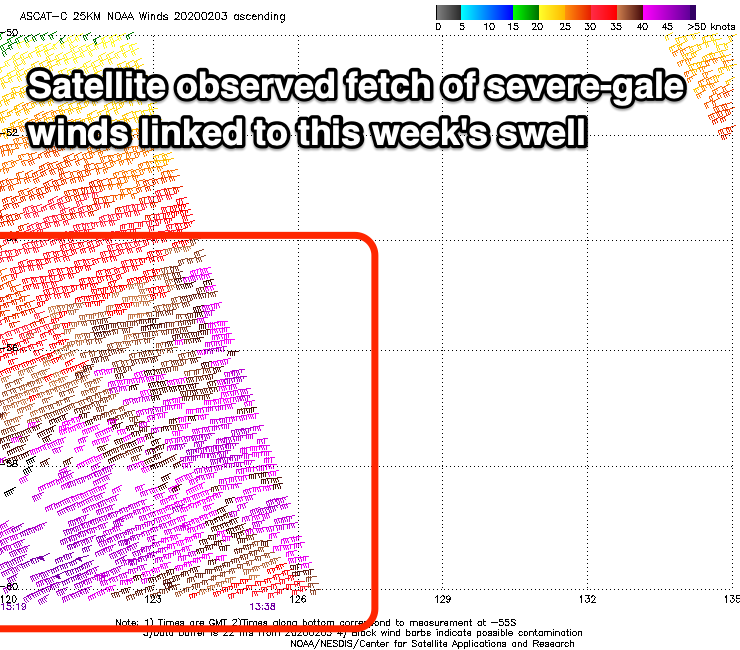 This low has been generating a great fetch of gale to sometimes severe-gale W/SW winds through our south-western and southern swell window, producing a solid kick in size tomorrow across both coasts.
A peak is due through the morning with sets to 4-5ft on the Surf Coast swell magnets, 6ft to possibly 8ft on the Mornington Peninsula, easing later in the day and then down further from 3ft+ and 4-5ft respectively Friday with a small SE windswell in the mix.
Winds and conditions tomorrow will improve through the morning with a pre-dawn and moderate to fresh SE'ly due to ease and swing more E/SE (possibly E/NE across some spots on the Mornington Peninsula) ahead of S/SE sea breezes.
Friday will see winds swing more S/SE but only be light to moderate, possibly tending more variable on the Mornington Peninsula and E/NE across Phillip Island, fresher S/SE into the afternoon again.
Therefore while not great there'll be plenty of options for a surf Friday morning (more limited tomorrow with the sizey swell too big for the MP beaches).
Unfortunately the weekend still looks poor with strong and persistent E/SE winds kicking up building levels of sizey SE windswell for the Surf Coast but generating stormy and junky conditions.
There'll be limited options for a decent wave even to the east, with strong E/SE leaving nowhere to really hide.
Size wise, the Surf Coast looks to build to an easy 4ft Saturday afternoon, holding Sunday (3ft+ to the east) and starting to ease Monday as winds shift more E/NE-NE as a trough approaching from the west dips the easterly pressure gradient south.
The Mornington Peninsula should offer peaky and clean though easing 2-3ft sets Monday morning, 3ft+ on the Surf Coast. The trough may bring a S'ly wind change for Tuesday but with no real new swell.
There's no respite through next week to the run of average surf, with another strong high, squeezed by a low in the Tasman likely to form later next week, kicking up the SE windswell again. More on this Friday.