Wednesday, 30 October 2019
Generally clean with small to moderate swells
Victoria Forecast by Craig Brokensha (issued Wednesday 30th October)
Best Days: Exposed beaches Thursday, later Friday exposed beaches, Saturday ahead of the change, Sunday morning, Monday morning Surf Coast, Tuesday morning Surf Coast
Recap
Fun waves across both regions most of the day yesterday with an inconsistent W/SW groundswell to 3ft on the sets on the Surf Coast, 4-5ft to the east, while today the swell was still coming in at 2-3ft on the Surf Coast and 3-5ft to the east but with a light to moderate onshore breeze. Straight but bumpy waves.
This week and weekend (Oct 31 – Nov 3)
We'll see the size tailing off over the coming day or so, dropping further tomorrow from a small 2ft on the swell magnets across the Surf Coast, and 3ft to possibly 4ft on the Mornington Peninsula.
Conditions looks clean across both regions all day with a fresh and sometimes gusty N/NE wind east of Melbourne, N/NW to the west.
A low point in swell is due Friday morning with a gusty N/NE breeze. The Mornington Peninsula will be clean but likely only around 2ft+ or so, tiny on the Surf Coast.
Our new inconsistent W/SW groundswell for later in the day hasn't changed, with the distant polar low linked to this breaking down south-west of WA yesterday.
With the large distance between us and the source of the swell, it'll be very inconsistent and only likely kick to the 2ft range at magnets late afternoon, if not for the odd sneaky bigger one on dark. The Mornington Peninsula should increase to 3-4ft. Winds look favourable all day still with the morning gusty N/NE breeze holding but easing a little in strength, so definitely try for the late session.
Similar sized surf is likely early Saturday morning, with inconsistent 2ft+ sets on the Surf Coast magnets, 3-4ft+ to the east with a dawn N'ly wind that will shift NW-W/NW through the morning ahead of a mid-afternoon S/SW change.
The rest of the weekend is quite tricky but the take home point is that the swells due through Saturday and Sunday will be west in nature and likely biggest on the former.
As talked about on Monday a broad but relatively weak mid-latitude frontal progression will develop around WA and aim fetches of strong W/SW winds through our western swell window, but a low forming at the southern fringe if this activity is due to produce a tight and short-lived fetch of gale-force W/SW winds.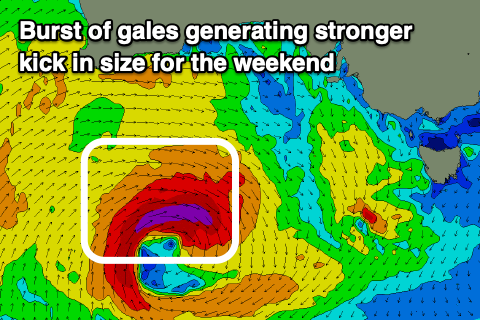 This fetch will be better aimed in our western swell window and should produce a pulse of stronger W/SW groundswell for Saturday. It might not be there at dawn but should be there by mid-late morning, pulsing to 3ft on the Surf Coast and 4-5ft to the east. This will be as winds start to swing, so there'll be a window with clean conditions and fun sized sets.
The swell will be gone by Sunday, replaced by the mid-period energy that looks to be around 2ft to maybe 3ft on the Surf Coast and 4ft+ to the east. Winds are looking workable with a dawn variable tending E/NE breeze ahead of a stronger SW change.
Into Monday a little stronger swell is expected out of the W/SW, produced by a slow moving fetch of strong W/SW winds on the backside of the low producing Saturday's swell, mixed in with some windswell from a front moving through Sunday afternoon.
Sets to 3ft are likely on the Surf Coast, 4-5ft to the east with a morning W/NW breeze ahead of afternoon SW winds, easing a touch Tuesday.
Longer term a stronger mid-latitude low is forecast to move in by both ECMWF and GFS forecasting models early next week, generating a better W/SW groundswell for mid-late week, but more on this in Friday's update.