Monday, 24 June 2019
Slow period with very inconsistent swells inbound
Victoria Forecast by Craig Brokensha (issued Monday 23rd June)
Best Days: Exposed beaches late Thursday, Friday, Saturday morning and then the reefs Saturday afternoon
Recap
Average surf on Saturday with small onshore waves, while the new long-period and inconsistent SW groundswell for Sunday showed later Saturday but peaked yesterday morning to 3ft on the Surf Coast and 3-5ft on the Mornington Peninsula. Variable tending locally light offshore winds created cleaner conditions than expected across all breaks, remaining so all day.
This morning fog was shrouding parts of the coast but conditions were great and clean with a smaller easing 2ft wave on the Surf Coast and 3ft or so on the Mornington Peninsula.
Today's Forecaster Notes are brought to you by Rip Curl
This week and weekend (Jun 25 - 30)
As touched on the last couple of updates, this coming week will be void of any major surf until later Thursday and more so Friday/Saturday.
The cause is a large and dominating high pressure system that has been sitting across our major swell windows, and is now located at 1036hPa just east of us.
This is the yin to the yang in the southern Indian Ocean, with a significant and sustained frontal progression taking place through the weekend and into this morning.
This will be the source of the swell later week, but before this, we'll see the Surf Coast become tiny to flat into tomorrow and Wednesday, with possibly the odd 1-2ft leftover on the Mornington Peninsula tomorrow morning. Winds will be favourable for exposed beaches with a persistent northerly pressure gradient, tending locally offshore each morning.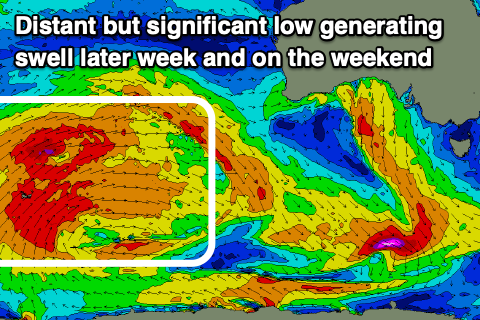 The swell due late week and into the start of the weekend isn't great, with it being very inconsistent, west in nature and tricky to dissect each seperate pulse.
Firstly, we've seen a broad and significant fetch of severe-gale W/SW winds generated in our far swell window, east-northeast of Heard Island. This has produced an inconsistent and long-range W/SW groundswell that may be seen very late Thursday but will peak Friday morning.
Size wise the Surf Coast looks small and to a very infrequent 2ft, with 3-4ft+ sets on the Mornington Peninsula Friday morning.
A secondary intensification of severe-gale to near storm-force W/SW winds at a more northern latitude will produce a slightly bigger but more W'ly angled swell for Saturday.
In between Friday morning's pulse and Saturday's there may be a touch more size showing across the coast Friday afternoon, but likely not above 3ft on the sets across the Surf Coast and the 5ft range on the Mornington Peninsula.
Saturday's swell looks to top out at a very inconsistent 3ft on the Surf Coast, much smaller in protected locations (so keep your expectations low) and 5-6ft on the Mornington Peninsula.
Looking at the winds and a fresh N'ly Thursday afternoon will favour the beaches, while Friday looks windy with gusty N'ly winds favouring some breaks but not others. An even stronger N'ly wind will be seen on Saturday creating less than ideal conditions, shifting NW into the afternoon with an approaching front, moving through Sunday with persistent W/NW winds.
A small increase in mid-period W/SW swell is likely Sunday in the wake of the front but only to 2-3ft on the Surf Coast and 4-5ft to the east.
Longer term the outlook is much more interesting as we see the Long Wave Trough move east and strengthen across the south-east of the country, bringing a flurry of significant frontal activity. This looks to generate large swells into mid-next week. More on this in the coming updates.