Monday, 22 October 2018
Good mix of swells Wednesday but winds are an issue, better Thursday
Victoria Forecast by Craig Brokensha (issued Monday 22nd October)
Best Days: Surf Coast keen surfers tomorrow morning, Surf Coast early Wednesday, both coasts Thursday, exposed beaches Friday morning
Recap
Poor waves on Saturday with a low point in swell and average winds, while Sunday saw a new pulse of acute W'ly swell which varied depending on exposure.
As expected protected spots on the Surf Coast were small to tiny with inconsistent and slow 2-3ft sets on the magnets. The Mornington Peninsula was a better 4-5ft with improving conditions into the afternoon as a morning W'ly tended more N'th and then variable.
Today our better mix of SW and W/SW groundswells have filled in, a touch undersized at dawn but strong now and up to 3-4ft on the Surf Coast swell magnets and 4-6ft to the east with great winds.
We should see the swells holding all day as winds also persist out of the north.
Today's Forecaster Notes are brought to you by Rip Curl
This week and weekend (Oct 23 - 28)
We're half way through our tricky forecast period of swells from varying directions.
Today's mix of SW and W/SW groundswells will ease into tomorrow morning, back from 2ft to possibly 3ft at swell magnets on the Surf Coast and 3-5ft to the east, but a W/NW wind will favour the Surf Coast, giving into a SW change early afternoon.
Our new W/SW swell for Wednesday is looking better, with a strong mid-latitude front currently passing under WA and towards the Bight, generating a fetch of strong W/SW gales through our western swell window.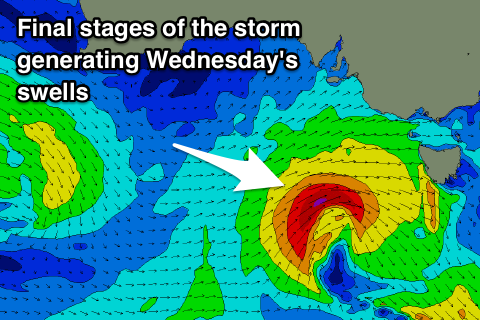 This system is forecast to dip slowly east-southeast more into our swell window while strengthening with a core fetch of stronger gale to near severe-gale W/SW winds projecting nicely through our south-western swell window.
What we'll see is a good W/SW groundswell for Wednesday morning, with the SW component kicking in through the mid-morning.
We should see the Surf Coast building to an easy 4ft, with bigger 5ft sets on the swell magnets and 6ft to occasionally 8ft sets on the Mornington Peninsula.
Winds are average and generally onshore from the SW tending S/SE, but the Torquay region will more than likely see an early W/NW'ly.
Thursday looks great as a small trough moves in from the west resulting in winds swinging locally offshore through the morning as the W/SW and SW swells ease back from 3-4ft and 6ft respectively.
Friday is a little tricky but we'll likely see variable winds again as the swell continues to ease.
Into the weekend, a deepening inland trough come low will start to move in from the north-west bringing NE winds on Saturday, and then an onshore change later in the weekend, but no new swell.
As a result we're looking at small to tiny and average surf with a junky windswell in the wake of the low is it moves east early next week. More on this Wednesday.