Wednesday, 18 July 2018
Excellent run for the Surf Coast
Victoria Forecast by Craig Brokensha (issued Wednesday 18th June)
Best Days: Experienced surfers only Surf Coast Thursday, Friday and Saturday morning, Sunday both locations, Tuesday through Friday next week Surf Coast
Recap
Small inconsistent levels of long-range groundswell yesterday morning with strong to gale-force offshore winds, easing off a touch into the afternoon while swinging more NW along with some better size. The Surf Coast was OK late but only for keen surfers.
This morning we've got some new mid-period W/SW swell energy, mixed in with hints of the long-period swell that's due to really muscle up this afternoon. The long-period energy is being registered on the sensitive Point Nepean wave buoy, but off Cape Sorell it's yet to be seen (just registered), as the mid-period energy is much more dominant.
It was hard to put a size on this morning's expected size, but we've got 3-4ft sets on the Surf Coast (reports of 4-5ft sets now) and 5-6ft sets on the exposed beaches to the east under fairly favourable winds.
Through the day and more so this afternoon we should see the bulk of the long-period W/SW groundswell filling in, kicking to 6-8ft by late this afternoon on the Surf Coast and 10-12ft to the east as winds hold out of the N/NW-NW.
Today's Forecaster Notes are brought to you by Rip Curl
This week and weekend (Jul 19 - 22)
Want to receive an email when these Forecaster Notes are updated? Then log in here and update your preferences.
Later today's increase in large long-period W/SW groundswell is due to peak overnight, easing slowly through tomorrow, but our slightly larger more consistent reinforcing W/SW groundswell will keep oversized surf hitting the coast all of tomorrow.
This swell was generated by a severe low forming on the backside of the progression linked to later today's swell, with satellite observations (right) confirming a fetch of storm-force W'ly winds generated on top an active sea state in our western swell window.
The low has since projected east while slowly easing in strength, with an oversized long-period W/SW groundswell due to fill in tomorrow morning.
The Surf Coast magnets exposed to the west swell direction should see 8-10ft sets through most of tomorrow, smaller in more protected spots, while the Mornington Peninsula will be huge and to 12ft+ on the exposed beaches.
Conditions will be excellent for experienced surfers with a fresh and gusty NW tending W/NW wind, keeping protected locations clean all day, while we've also got an improvement in conditions for Friday.
We'll see tomorrow's swell drop back into Friday morning, though not likely below 6-8ft across the Surf Coast swell magnets as a trailing fetch of broad W/SW gales on the backside of the severe low keep large surf hitting the coast.
Into the afternoon though a better aligned pulse of W/SW tending SW groundswell is due, produced by a further fetch of SW gales sling-shotting up and towards us from the tail of the progression.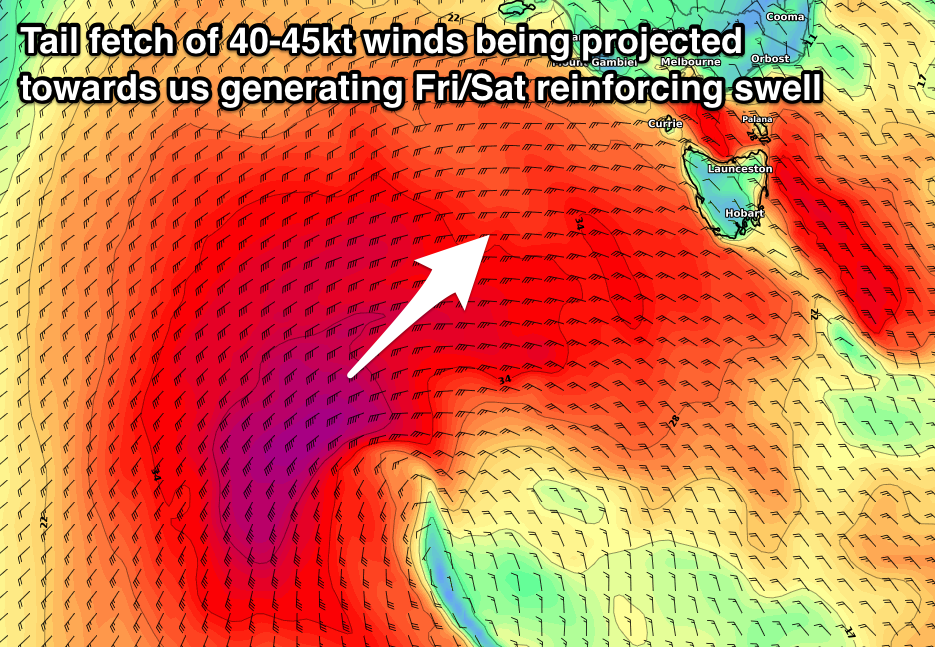 This should keep 6-8ft sets hitting the Surf Coast into the afternoon, if not for the odd bigger bomb, with 10-12ft waves on the Mornington Peninsula. As touched on above, winds look more favourable and out of the W/NW for most of the day as the front proper comes in a little more zonal (west to east) rather than south to north. There's likely to be a W/SW change into the afternoon, likely in by 1pm.
The weekend is looking excellent as Friday's large pulse of groundswell eases from a SW direction with surf in the 6ft range (if not the odd sneaker at magnets) on the Surf Coast and 8ft+ to the east, smaller and from the 3ft and 4-5ft+ range respectively Sunday.
Another severe polar frontal progression firing up towards WA will push a strong high quickly in from the west, directing excellent NW winds across the Surf Coast all day Saturday, N/NW tending N on Sunday. This will open up options east of Melbourne on Sunday as the swell eases.
Next week onwards (Jul 23 onwards)
A low point in swell is due Monday morning with fresh to strong N-N/NW winds. The Surf Coast looks tiny while the Mornington Peninsula a slow and bumpy 2-3ft.
Of greater importance is a renewal of long-period W/SW groundswell energy from Tuesday next week, generated by another winter calibre polar frontal progression firing up towards and across WA under the influence of the Long Wave Trough.
This will produce XL surf for Indo and XXL for WA, while we won't see the size due this week, with the storms being more distant and not as favourably aligned.
Still moderate to large levels of W/SW groundswell are expected from Tuesday through Friday with favourable winds for the Surf Coast, but we'll look at this in more detail on Friday.