Friday, 13 July 2018
Great weekend, oversized raw W/SW swells next week
Victoria Forecast by Craig Brokensha (issued Friday 13th June)
Best Days: Saturday, Sunday, keen surfers Monday morning, Surf Coast late Tuesday, protected spots Wednesday/Thursday
Recap
Fun waves continuing across most locations yesterday with variable winds through the morning and sets hanging in a bit over expectations and to 3ft on the Surf Coast (3-4ft 13th Beach) and 4-5ft on the Mornington Peninsula.
The afternoon saw onshore winds kick in creating average conditions, while also leaving some leftover lump and bump with smaller 2ft waves on the Surf Coast this morning, onshore and 3-4ft on the Mornington Peninsula.
Today's Forecaster Notes are brought to you by Rip Curl
This weekend and next week (Jul 14 - 20)
Want to receive an email when these Forecaster Notes are updated? Then log in here and update your preferences.
During yesterday we saw a surface trough retro-grade west, bringing onshore winds, but this has since developed into a low off the southern NSW coast though without any major strength.
An approaching trough from the west will slowly push this away through tomorrow, while directing persistent westerly winds across our regions today.
On dark today we may see some hints of new long-period SW groundswell that's expected to peak early tomorrow morning across the state.
There's been no real change to the expected size, with a strong and slow moving polar low that developed south-southwest of WA earlier this week, traversing east along the polar shelf while slowly weakening over the coming days.
Most breaks should come in at 4-5ft on the Surf Coast early tomorrow morning, with the odd bigger cleanup at magnets likely, easing slowly through the day and down further from 3ft on the sets at magnets Sunday morning.
The Mornington Peninsula should see large 6-8ft sets on the open beaches, easing slowly through the day and down from a more manageable 4-5ft Sunday.
With the surface trough moving in from the west we're looking at great N/NW winds all day on the Surf Coast, while to the east there is likely to be periods of N-N/NE winds. In any case, spots handling the groundswell east of Melbourne should be clean most of the day.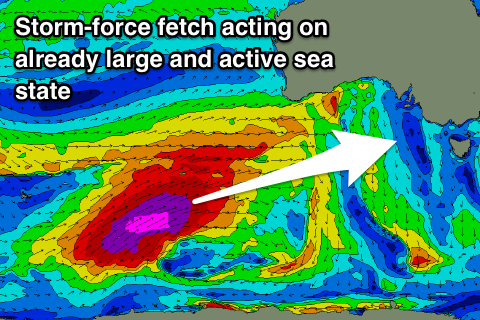 Sunday will remain great across most of the Surf Coast with a persistent N/NW offshore, while the Mornington Peninsula is likely to see morning N-N/NE winds, N'th into the afternoon.
Come Monday the swell will be back to a small background 2ft on the sets across the Surf Coast under gusty N/NW winds, while the Mornington Peninsula will be workable with an early N'ly likely and inconsistent 3ft+ sets.
A new long-range and inconsistent SW groundswell is due on Tuesday morning, produced by a strong polar low that has pushed through our far swell window around the Heard Island region and south-west of WA up till today.
Very inconsistent 2-3ft sets are due on the Surf Coast magnets with 3-5ft waves on the Mornington Peninsula along with strengthening N/NW winds, likely shifting W/NW into the afternoon.
Now this shift in wind direction will be linked to a very broad and multi-staged winter calibre frontal progression pushing in from the west.
Currently a strong node of the Long Wave Trough is developing west of WA and this will move slowly east through the weekend and early next week.
With this we'll see back to back polar storms directed initially through our far swell window and then medium to close-range swell window.
During today and tomorrow a broad and elongated fetch of severe-gale W/NW winds will swing in from the Heard Island region, tending more W/SW while projecting east-northeast towards the southern WA coast.
This will produce a large active sea state for a trailing fetch of storm-force W/SW winds to move over, projecting slowly through our western swell window Sunday and early Monday before weakening slowly and pushing into the Bight.
The progression will then make its way across us on Wednesday/Thursday bringing with it some localised and large mid-period swell.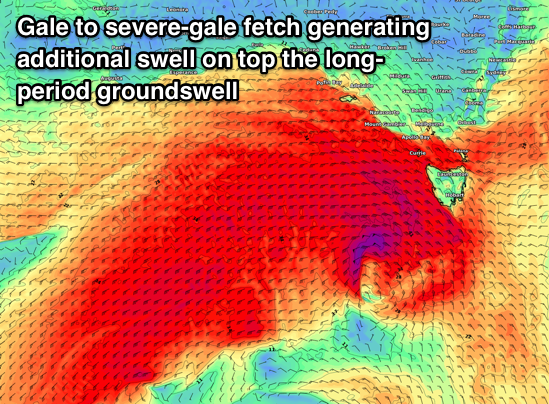 But coming back to the groundswell expected off this significant progression and we should see moderate amounts of W/SW groundswell building Tuesday afternoon from the initial W/NW to W/SW fetch, kicking to 3-4ft late in the day on the Surf Coast and 6ft+ on the Mornington Peninsula.
Into Wednesday though the large long-period W/SW groundswell will fill in, mixed in with later Tuesday's swell and solid mid-period W/SW swell from the progression moving across us.
With this large mix of swell energy there's likely to be weird and funky double-ups spoiling set waves, but size wise we're looking at building sets from 3-5ft early on the Surf Coast, up to 6-8ft+ by dark at this stage, with increasing storm surf to 10-12ft+ on the Mornington Peninsula.
Strong W/NW-W winds are due most of the day Wednesday, favouring protected spots across the state. We're likely to see a peak Thursday morning with easing raw 8-10ft waves on the Surf Coast and 10-12ft+ surf to the east under gusty W/SW winds (W/NW early for a period on the Surf Coast).
We'll have another go over this on Monday though so check back for a more definitive indication of size, local winds and timing of this large powerful mix of groundswells. Have a great weekend!