Wednesday, 16 May 2018
Good period for the Surf Coast with swells from more southerly angles
Victoria Forecast by Craig Brokensha (issued Wednesday 16th May)
Best Days: Thursday and Friday morning Surf Coast, possibly early Saturday Surf Coast, Sunday Surf Coast, next week Surf Coast
Recap
Clean small 2ft waves yesterday morning across the Surf Coast ahead of a mid-morning change, while today onshore S/SW winds have spoilt a good new mix of swells.
Today's Forecaster Notes are brought to you by Rip Curl
This week and weekend (May 17 - 20)
These notes will be brief as Ben's on holidays.
Today's good mix of swells (SW energy being the biggest and most dominant) will ease off through tomorrow but conditions will be good across the Surf Coast reefs most of the day with a persistent W/NW breeze. Easing sets from 3ft are due through the morning, while into the late afternoon some signs of new long-period S/SW groundswell should be seen.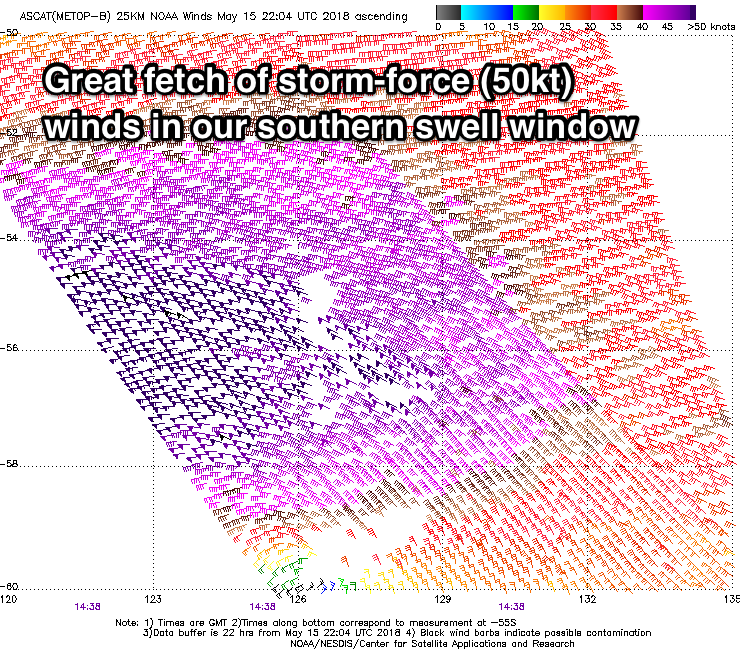 Satellite observations of the severe low linked to this swell are looking great with storm-force W'ly winds being generated in our southern swell window.
We'll see this low continuing to produce severe-gale to storm-force W/SW winds in our southern swell window this morning, before weakening slightly and passing under Tassie this evening.
The extra south in the swell direction and long-period nature will see large powerful waves across the Surf Coast Friday, with a peak due Thursday night, easing slowly thereafter.
Solid 5-6ft+ waves are due across the Surf Coast magnets early Friday with 8ft sets to the east, easing steadily through the day and a W/NW-W breeze is due to hold most of the morning, shifting SW into the afternoon.
With the large powerful nature of the swell, it will only be for experienced surfers.
Unfortunately the start of the weekend is still looking average, with Friday's onshore change linked to a strong slow moving high pushing in from the west, directing SW winds into all locations. There's a good chance for an early W'ly around Torquay, with easing 3ft to possibly 4ft sets on the reefs.
Sunday will be smaller and cleaner with a W/NW breeze holding all day and a fun S/SW groundswell to 3ft on the sets on the Surf Coast, generated by a weak and late forming polar front south-west of Tassie on Friday.
Next week onwards (May 21 onwards)
Into next week we're set to see a strong node of the Long Wave Trough stalling to our east, across the Tasman Sea and this will direct front after front up through our southern swell window, generating moderate to large pulses of S/SW groundswell and with generally favourable winds through the morning for the Surf Coast.
The first moderate sized swell is due to build Monday, easing Tuesday with a possible larger swell Thursday, but we'll have a closer look at this Friday.