Friday, 20 November 2015
Surf Coast set to pump next week
Victoria Forecast by Craig Brokensha (issued Friday 20th November)
Best Days: Sunday afternoon, Monday morning, Tuesday, Wednesday, Friday morning
Recap
Small to tiny waves continued yesterday with the Portsea region the only real option for a decent wave with small 2ft sets and OK winds. Today similar sized surf and an onshore made the beach far from appealing.
This week and next (Nov 21 - 27)
Tomorrow's acute W'ly swell is still on track and I believe the wave models are over-forecasting the size for the Surf Coast. Due to the unfavourable fetch from the low that generated it under WA, we're only likely to see 2ft+ sets at swell magnets on the Surf Coast with maybe 4-5ft+ waves on the Mornington Peninsula.
Conditions will be poor anyway with a fresh to strong SW change moving through before dawn, with only a slim chance for an early W'ly wind, but protected spots handling this will be small to tiny.
Sunday morning should be clean with a morning W/NW'ly, but the swell easing from a small 2ft on the Surf Coast and 3-5ft on the Mornington Peninsula.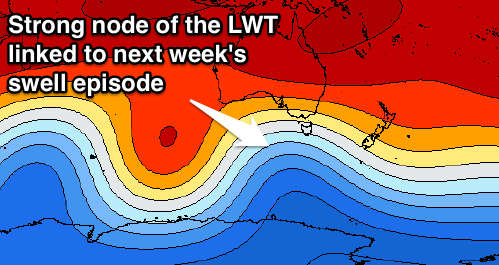 Our extended run of strong groundswells from Sunday afternoon through next week is coming together nicely, with two successive and different phases of the Long Wave Trough due to influence our swell window.

The first is currently steering a vigorous polar frontal progression from the south-east Indian Ocean up towards Tasmania, generating multiple fetches of W/SW gales.
We should see a moderate to large SW groundswell result from this first incarnation, building very strongly Sunday afternoon and peaking late to 4-5ft on the Surf Coast and 6-8ft+ on the Mornington Peninsula. Winds will be onshore from the W/SW but workable across the Surf Coast for keen surfers.
A slight drop is due into Monday morning with a reinforcing SW groundswell filling in from a secondary weaker front moving through our swell window. This should keep the Surf Coast around 3-5ft, with 6-8ft sets on the Mornington Peninsula, dropping back into Tuesday morning.
Now the second phase of the Long Wave Trough will be more pronounced across Victoria, directing front after front straight up towards us from Sunday through most of next week, while slowly pushing east.
This will generated pulses of SW tending S/SW swell, the first large pulse building later Tuesday to 3-5ft on the Surf Coast and 6-8ft on the Mornington Peninsula, peaking Wednesday to 4-5ft and 6-8ft+ respectively.
The surf is likely to hold around this size for Thursday before easing slowly Friday out of a more S/SW direction.
Now, winds look great for the Surf Coast each morning with W/NW-NW offshores Monday through Wednesday, only swinging SW Monday afternoon. Thursday looks onshore from the SW, with early W/NW winds again Friday morning. We'll confirm this Monday. Have a great weekend!