Wednesday, 18 November 2015
Average until some better swell later Sunday
Victoria Forecast by Craig Brokensha (issued Wednesday 18th November)
Best Days: Mornington Peninsula tomorrow morning and possibly early Friday, Surf Coast Monday morning onwards
Recap
Small to tiny surf yesterday to 1-1.5ft on the Surf Coast with favourable winds, and a better 2-3ft on the Mornington Peninsula with offshore winds until about midday.
Today the surf was around a similar size but with less favourable W'ly winds, creating clean conditions on the Surf Coast but bumpy peaky surf to the east.
This week and next (Nov 19 - 27)
Small to tiny surf will continue through tomorrow to 1ft+ on the Surf Coast and 2-3ft on the Mornington Peninsula, with the early to mid-morning looking workable around the Portsea area with N'ly breezes, before a W/SW change moves through late morning/midday.
Friday will be even smaller and variable winds look to favour the Mornington Peninsula early, but don't expect anything much over 2ft.
A late kick in acute W'ly groundswell due Friday has been pushed more back to Saturday morning, and this size is looking a touch better, but not to what the forecast models are picking up currently around Torquay.

This swell is being generated by a a strong mid-latitude sitting off the south-west tip of WA, aiming a less than favourable fetch of W/NW gales being aimed through our western swell window.

This fetch will last a bit longer than forecast on Monday and push east, producing an small to moderate sized W'ly groundswell for Saturday morning. The size on the Surf Coast will continue to be severely limited but we're now likely to see 2ft+ sets across swell magnets on the Surf Coast, tiny elsewhere, with the Mornington Peninsula seeing 4-5ft+ sets.
Winds are looking poor though with a fresh SW'ly expected across both coasts, with only a slim chance for an early W'ly around Torquay. We'll confirm this Friday.
Sunday morning is expected to start slow but a strong and powerful SW groundswell will fill in during the afternoon, peaking overnight ahead of further continued activity through early next week.
The back to back swell activity will be related to two successive nodes of the Long Wave Trough pushing in and across us later this week ahead of a more pronounced node early to mid-next week.
The first node should direct a vigorous polar frontal progression developing in the south-east Indian Ocean, up towards us over the coming days, generating two successive fetches of gale to severe-gale winds.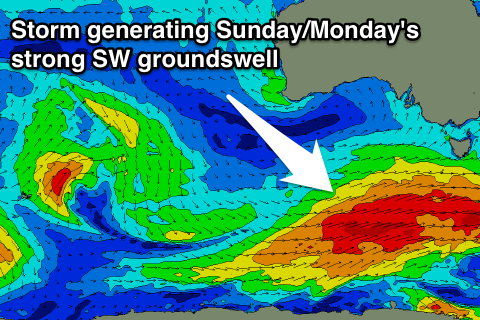 A moderate to large SW groundswell should result, kicking strongly to 4-5ft later in the day on the Surf Coast and 6-8ft on the Mornington Peninsula but with fresh SW winds. There's a chance for early W'ly winds around Torquay during the morning, but this will be before the swell kicks.
A secondary reinforcing pulse of SW swell is due Monday afternoon from strong trailing polar frontal activity, keeping 3-4ft sets hitting the Surf Coast and 6ft to occasionally 8ft sets on the Mornington Peninsula. Winds will continue from the W/SW to SW but Torquay is more than likely to see an early W/NW'ly.
Now, as the secondary more pronounced node of the LWT moves in, we'll see polar fronts steered up and over us through early to mid-next week, but at this stage not to the strength of the polar activity over the coming days.
This should generate at least moderate amounts of swells from Tuesday through Friday next week but with a lot of wind. The Surf Coast will be the pick over this period, but more on this Friday.