Small fun weekend, average next week
Victoria Forecast by Craig Brokensha (issued Friday 30th October)
Best Days: Saturday beaches both coasts, Sunday morning Surf Coast and western end of Mornington Peninsula early, possibly early Tuesday, Wednesday and Thursday east of Melbourne
Recap
Average onshore winds across the Surf Coast yesterday, but fun 3ft sets with a new S/SW swell and workable empty reef and beach waves for those who weren't fussy. The Mornington Peninsula saw lighter variable winds and lumpy 4-5ft+ waves.
Today the S/SW swell has eased back to the 2ft range on the Surf Coast and 3-5ft on the Mornington Peninsula, and the tricky wind forecast has gone in our favour with variable breezes seen across both coasts (even when last nights model updates had onshores forecast).
This weekend (Oct 31 – Nov 1)
Inconsistent and small will be the motto for the weekend.
Tomorrow morning will be a low point in activity with infrequent 2ft sets across the Surf Coast and 3-4ft waves on the Mornington Peninsula, but a new inconsistent SW groundswell is due into the afternoon. This is only due to keep 2ft sets hitting locations west of Melbourne with better 5ft sets on the Mornington Peninsula.
Conditions will be best on the beaches on the Surf Coast and to the east of Melbourne with NE winds, likely persisting all day. Come Sunday the swell will start to ease and NW winds will favour the Surf Coast ahead of a gusty W/SW change through the afternoon. The Portsea region will likely be OK early Sunday with workable N/NW winds.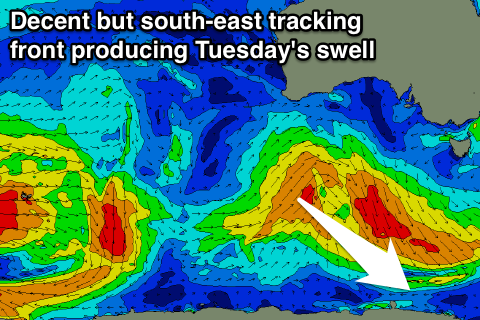 Next week onwards (Nov 2 onwards)
Monday still looks to be a write-off with tiny leftover amounts of swell on the Surf Coast early as a dawn NW breeze gives way to a fresh S/SW change through the morning.
This change will kick up some weak windswell, with a stronger but size limited SW groundswell due into Tuesday.
This groundswell will be produced by an unfavourably south-east tracking low forming under WA today, dropping down to the polar shelf through the weekend while aiming a fetch of SW gales through our swell window.
I can't see much size above 2-3ft being generated for the Surf Coast off this system, with 4-5ft waves on the Mornington Peninsula Tuesday, but strengthening E/SE winds will create average conditions in any case and produce building levels of SE windswell to a similar size west of Melbourne. There is an outside chance for variable breezes dawn Tuesday but we'll review this Monday.
E'ly winds are expected to persist Wednesday as an inland trough forms into a low, leaving protected locations east of Melbourne with the best waves with an easing SW swell from the 3-4ft range on the Mornington Peninsula.
Thursday is likely to see offshore N'ly winds kick in but with no decent size at all. A weak SE windswell should fade from 1-2ft on the Surf Coast, with 2ft waves on the Mornington Peninsula.
Besides a very long-range and inconsistent W/SW groundswell for Friday, a stronger SW groundswell may be seen into the week starting the 9th of November but we'll have another look at this on Monday. Have a great weekend!