Wednesday, 8 July 2015
Slowly improving size with generally favourable winds
Victoria Forecast by Craig Brokensha (issued Wednesday 8th July)
Best Days: Thursday afternoon both coasts, Friday both coasts, Saturday both coasts, Sunday morning Surf Coast, Tuesday afternoon Surf Coast
Recap
Clean, easing swell from 2-3ft on the Surf Coast and 3-5ft on the Mornington Peninsula yesterday morning, with the surf becoming tiny into today west of Melbourne, while the Mornington Peninsula was best with easing 2-3ft waves.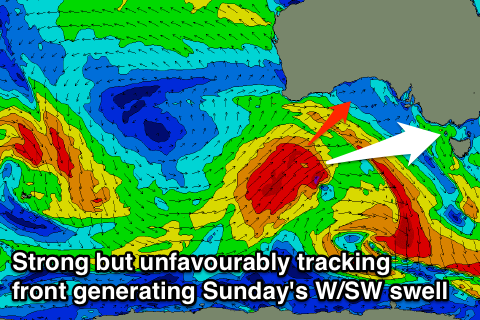 This week and weekend (Jul 9 – 10)
Tomorrow morning is still due to be the low point in swell activity across the state before a mix of inconsistent long and medium-range W/SW groundswells fill in.
The Surf Coast should build to an infrequent 2ft+ through the afternoon with 3-5ft sets on the Mornington Peninsula under persistent and strengthening N'ly winds.
A peak in both swells is due Friday morning, with infrequent 2-3ft sets on the Surf Coast and 4-6ft sets on the Mornington Peninsula, easing through the day. Fresh to strong N/NW winds will favour most locations (tending N'ly at times east of Melbourne).
A new pulse of W/SW groundswell due for Saturday has now been upgraded a touch, with the pre-frontal fetch of W/NW gales due to nearly reach the severe-gale range.
This should produce a fun pulse of W/SW groundswell Saturday, building to 3ft on the Surf Coast through the day and 5-6ft on the Mornington Peninsula. Winds looks to remain favourable and offshore from the N/NW for most of the day, ahead of a mid-late afternoon SW change.
Sunday's better W/SW groundswell has changed in timing and size, with the polar low generating this due to now push up into SA earlier, resulting in smaller and less consistent amounts of W/SW groundswell impacting the coast Sunday.
This should come in at an infrequent 3ft to occasionally 4ft at swell magnets on the Surf Coast and 6ft+ on the Mornington Peninsula. Winds are tricky as the models diverge around the development of a strong cold outbreak across the south-east of the country, but we're likely to see light NW tending strong SW breezes.
Next week onwards (Jul 13 onwards)
The cold outbreak across the south-east of the country through the weekend and early next week will bring plenty of snow, but also junky and average levels of S/SW windswell into Monday and Tuesday.
There's also due to be some stronger SW groundswell due Tuesday afternoon from a vigorous polar frontal progression firing up south of WA. Winds may improve for this swell though with strong S/SW breezes due Monday, swinging back from the W/SW to NW through the afternoon Tuesday. We'll review this again on Friday though.
Longer term there's some good indications of some larger SW groundswell developing later next week from broad and sustained frontal activity along the polar shelf, but we'll look at this again Friday as well.