Wednesday, 17 July 2019
A couple more south swells, then quiet
Sydney, Hunter and Illawarra Surf Forecast by Craig Brokensha (issued Wednesday 17th July)
Best Days: South swell magnets tomorrow morning, OK into the afternoon for keen surfers, Friday morning, Saturday, possibly later Monday and early Tuesday for a SE pulse
Recap
Great conditions and fun pulses of S'ly swell but falling just short of expectations with surf mostly to 3ft across south magnets yesterday in Sydney, a better 4ft this morning while selected spots have seen bigger cleanups at times.
Today's Forecaster Notes are brought to you by Rip Curl
This week and weekend (Jul 18 - 21)
These notes will be brief as Ben's on annual leave.
Two down, two more to go.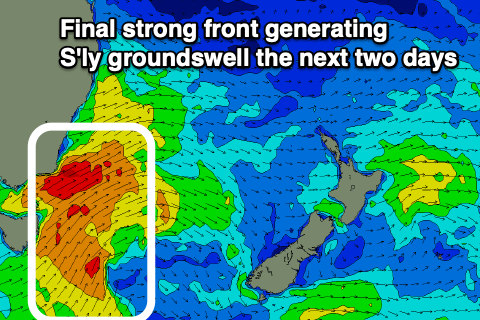 A new pulse of S'ly groundswell that filled in last night is easing through today and we'll see it continuing to drop into tomorrow morning ahead of a new building S'ly groundswell into the afternoon.
This will be generated by a front pushing up and across Tassie this evening, projecting a fetch of strong to gale-force SW-S/SW winds through our southern swell window from early tomorrow morning through most of the day while slowly projecting north-east.
A moderate sized S'ly groundswell is expected, with south facing beaches only due to be around 2ft to maybe 3ft tomorrow morning, building back to 4-5ft (if not the odd bigger one) later in the day at south facing beaches in Sydney. The Hunter will be larger but the timing might see the swell arriving after dark.
A secondary pulse from the slow moving nature of the front is expected on Friday morning, slowing the easing trend with south facing beaches expected to ease back from the 4ft range, 5-6ft in the Hunter and smaller on the South Coast.
Winds won't be the best tomorrow, offshore in the morning from the W, but ahead of the swell and into the afternoon a weak S/SE breeze is expected.
Friday morning looks much better as the swell eases with a W'ly offshore ahead of weak sea breezes, SE tending E/SE.
Our last S'ly swell will be generated by a weak front pushing up and out of Bass Strait, with a fetch of strong SW winds due to be generated in our southern swell window Friday.
This swell will be mid-period and fairly weak, peaking Saturday morning to 3ft across south facing beaches in Sydney, smaller on the South Coast and bigger in the Hunter, with a steady easing trend through the day.
Hit the morning for the best waves with a light W/NW offshore ahead of moderate to fresh N/NE sea breezes.
Come Sunday there isn't expected to be much swell left in the tank with tiny fading surf from 1-1.5ft though with a NW tending N/NE breeze.
We may see a small SE swell into Monday afternoon as Friday's front moves over towards New Zealand and generates a fetch of strong S/SE winds in our swell window. A kick to 2-3ft is likely before dark, easing from a similar if not slightly smaller size Tuesday with light NW breezes.
Longer term there's no new swell until later next week and it looks to be out of the south again, but more on this Friday.