Ordinary outlook. Local swells and dicey winds
Sydney, Hunter and Illawarra Surf Forecast by Guy Dixon (issued Friday 27th November)
Best Days: No epic days. Monday morning for clean conditions, Thursday for size/quality.
Recap:
Conditions remained crisp and clean until the afternoon on Thursday under hot offshore breezes. Unfortunately the surf came in a touch under forecast, maxing in the 3ft range at open beaches in the morning, fading throughout the afternoon. Still, there were good options.
Following last night's blustery southerly change, the surf was glassy but wobbly/lumpy this morning. South facing beaches were offering options in the 3-5ft range, with 6ft sets across the Hunter. Breezes have gradually swung around the the northeast this afternoon, so conditions are slightly bumpy/crumbly, but still workable for a Friday afternoon.
This weekend (Saturday 28th - Sunday 29th):
The southerly groundswell which is breaking across all coasts this afternoon is likely to fade from the 2-3ft range throughout Saturday.
Open beaches are likely to be undersized initially with only a small amount of east/northeasterly energy generated from a tropical depression which has been lingering over the tropical South Pacific during the past few days.
However, a short range east/northeasterly windswell is expected to build into the afternoon generated by a small local east/northeasterly fetch. By the late afternoon, open beaches should have peaky options of average quality in the 2ft range.
A northeasterly breeze is likely to be dominating over the Hunter and Sydney coasts first thing, increasing throughout the afternoon. The Illawarra however is likely to be under a lighter an more northerly airflow early, before adopting a moderate/fresh northeasterly breeze.
The aforementioned east/northeasterly windswell is expected to peak on Sunday morning in the 2ft+ range, although the chances of winds cooperating are pretty slim. One model suggests a period of light/variable breeze early in the morning, but most other models are in agreement that northeasterly breezes will be well established over the coast early, increasing throughout the day.
In this case, south facing beaches are the best options to consider. A small southerly groundswell remain in the water, generated by poorly aligned west/southwesterly fetches just east of Tassie.
Size wise, don't get your hopes up. We are only expecting background energy in the 2ft range at south facing beaches.
Next week (Monday 30th onward):
As we move into the early stages of next week, we are only really expecting small swell off local sources. An easterly fetch associated with Saturday/Sunday's system will add a small amount of east/northeasterly energy into the mix for Monday, generally in the 1-2ft range at open beaches, accompanied by the remnants of the weekend swell.
Thanks to a brief and weak southerly change on Sunday evening, winds look to be light on Monday morning, tending light/variable mid-morning. Make the most of the early clean conditions before a northeasterly breeze sets in
Tuesday should see more size, with the swell from two separate systems ramping up. Initially, we are set to see size gradually building out of the east/northeast from the aforementioned tropical depression.
A more notable northeasterly windswell is expected to build through the day, generated by an increasing northerly flow along the NSW coast on Monday.
This northeasterly windswell should build to the 2ft range by the afternoon at open beaches, although conditions are likely to be pretty ordinary due to the effects of the local breezes.
The true southerly change is due sometime around Tuesday evening, but models are having a nightmare of a time trying to pin down the timing. Either way, it's likely to be under the cover of darkness, overnight from Tuesday into Wednesday. This means we will miss the window of offshore breezes.
A short range southerly swell generated by this southerly change should build to the 3-4ft range by Wednesday afternoon, followed on Thursday by a longer period groundswell which is a product of an associated low which is expected to develop eat of Tasmania.
The effects of this groundswell are only expected to be modest mainly due to its small scale and rapid easterly direction. Nevertheless, south facing beaches should gain around 2ft+ of swell.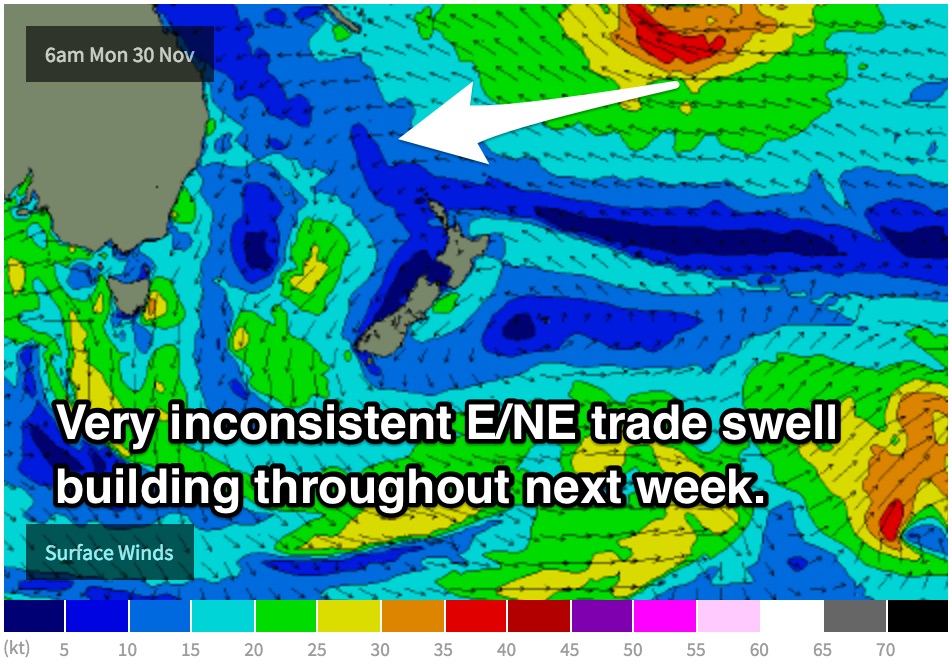 Wednesday is looking pretty ordinary under a gusty southerly breeze all day, so keep to the open beaches and make the most of that east/northeasterly trade swell.
Otherwise, save it for Thursday where conditions will be marginally better as winds ease and swing southeasterly.
Further ahead:
Looking longer term, are hoping for more size off the tropical depression. Open beaches could do well with prolonged but inconsistent swell next weekend in the 3ft, maybe 4ft range if everything goes to plan.
More detail next week.