Improving Sunday, great Monday
Sydney, Hunter and Illawarra Forecast by Craig Brokensha (issued Friday 15th July)
Best Days: Early Saturday, Sunday afternoon, Monday, Tuesday morning, Wednesday morning in protected spots
Recap
Moderate levels of S'ly swell continued across south facing beaches yesterday morning to 3ft on the sets with light offshore breezes through the morning, but this gave way to a fresh S'ly through the day and choppy waves into the afternoon.
Today a reinforcing S'ly groundswell has provided more power with 3ft to occasionally 4ft sets across south facing beaches and smaller 2-3ft waves at open locations. Conditions were again good with a light variable tending offshore breeze and we should see the swell hang in most of the day with a weak E/SE'ly breeze into the afternoon.
This weekend onwards (Aug 16 onwards)
One final pulse of long-range and inconsistent S'ly groundswell is due later today and tomorrow morning across the coast, generated by a very strong polar front pushing up and into New Zealand yesterday while generating a fetch of severe-gale to storm-force SW winds.
While not ideally in our swell window we should still see good levels of side-band S'ly groundswell energy spreading up and into us, keeping inconsistent 3ft sets hitting south facing beaches tomorrow morning (larger across the Hunter) ahead of an easing trend into the afternoon.
Conditions will be best early with a light variable tending offshore wind, but the afternoon will become poor as freshening E/NE winds start to move in.
These onshore winds will be related to a deepening inland surface trough slowly moving east towards the coast, squeezing the western flank of a strong high in the Tasman Sea.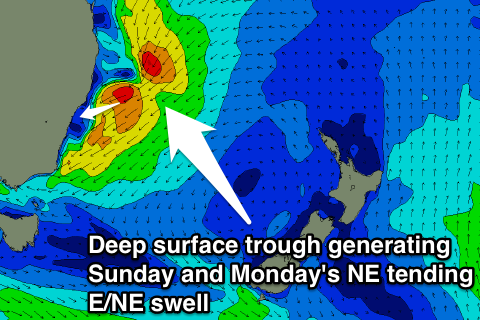 The intensity of this system has been upgraded since Wednesday and we're now looking at a solid increase in NE swell through Sunday as the surface trough moves offshore and continues to deepen.
What this will result in is a gradually strengthening fetch of NE winds being aimed right into us from Saturday afternoon, reaching the gale-force range into Sunday afternoon as the trough moves offshore.
North-east facing beaches in Sydney should build from 3ft+ early Sunday to a larger 3-4ft+ into the afternoon as poor morning N/NE winds slowly swing offshore from the NW during the day (around dark on the South Coast).
The trough should continue to aim a fetch of NE gales through our swell window until early Monday morning before it drifts too far south.
This should produce some stronger E/NE swell for Monday, coming in at 3-5ft across open beaches during the morning before easing slightly into the afternoon. The South Coast will be larger due to the fetch being aimed better towards the region along with a longer fetch length. South facing locations will be a lot smaller along the the Hunter region.
Conditions look excellent Monday with a moderate W/NW'ly expected to persist all day, so there's no rush to surf early.
Now, this won't be the end of the swell from this system as broad low pressure system will form in the trough through Monday, with a fetch of strong E/SE winds on its southern flank developing in our swell window during the day before a fetch of S/SE gales are projected up the Southern NSW Coast Tuesday.
What this should result in is E/SE swell to 3ft or so across open beaches Tuesday morning giving way to an afternoon kick in S/SE swell to 4-6ft across south facing beaches. Winds will be an issue though, swinging from a fresh to strong SW'ly early in the day around to the S/SE during the morning.
The swell Wednesday morning is likely to be in the similar 4-6ft range out of the SE but conditions look poor with a fresh to strong S/SW tending S/SE breeze as the swell drops through the day. The Northern Beaches are likely to see more favourable SW winds through the morning.
Longer term a slow drop in SE swell is expected into the end of the week with less than favourable winds, but we'll look at this again Monday. Have a great weekend!