Small flukey swells all week ahead of a good weekend
Sydney, Hunter and Illawarra Surf Forecast by Ben Matson (issued Monday 19th May)
Best Days: Thurs/Fri: small building south swell, with a small E/NE swell for Fri: Sat/Sun: strong south swell, and a fading E/NE swell.
Recap: Tiny E/NE swell for much of the weekend with continuing fantastic weather. A small south swell has pushed up the coast today but is only small (coming in just under size estimations) and very inconsistent. Rare 1.5-2ft sets have been observed on the Bondi surfcam, with 3ft sets in Newcastle, but there are extremely long breaks between them.
This week (May 20-23)
Quite an interesting period ahead. We've got a multitude of active swell sources for the southern NSW coast, but they're all located in the peripheries of our swell window. Which means flukey, inconsistent and unreliable swell prospects for the most part. Still, the weather's nice!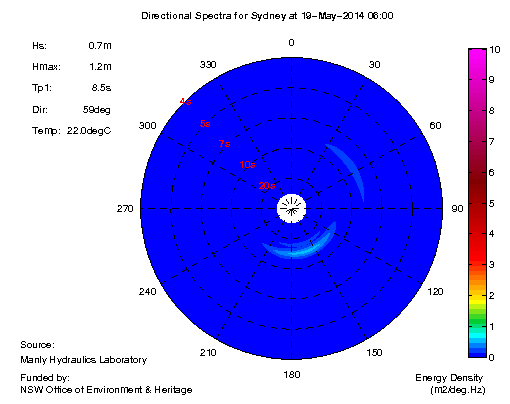 Take for example today's south swell. Two sources were expected to have contributed energy to the region, and some faint long period southerly energy was certainly recorded at the Sydney buoy around dawn (see the spectral buoy data to the right), however it wasn't quite as strong as expected and generally bypassed much of the southern NSW coast. Yet, Newcastle still picked up some reasonable sets in the 3ft range that looks very inviting (see surfcam images below).
Nevertheless, I'm expecting this particular phase of swell will peak overnight and ease slowly through Tuesday. So, apart from the early morning (which may see some lingering energy from this afternoon), we're looking at a weakening version of today that's likely to only favour the Hunter region with anything worthwhile.
A weak front is expected to push along the South Coast overnight Tuesday, and will drive a short period south swell into the coast throughout Wednesday (although it may not be in the water at first light). Winds are looking dicey with a trailing southerly flow likely to bump up those beaches picking up the swell however there will be some average waves for the afternoon at south facing beaches. Winds should also moderate later so it'll probably worth an arvo dash if you haven't surfed in a few days.
The second half of the week also has some small southerly swell prospects, but ultimately it's the weekend that's shaping up the best. The source of this swell is a seemingly endless supply of fronts (I've previous used the word 'conveyor belt', which paints the right kind of picture) that are developing and still expected to develop midway between the ice shelf and Tasmania, stretching west to about 110E early in the forecast period, but generally doing most of its swell production east of 130E.
However at first the orientation of the storm track isn't favourable for the East Coast, and the fetch isn't expected to be very long (although, it'll be present for quite a few days which is a bonus and may tip things mildly in our favour). The weekend will be the biggest beneficiary of this synoptic pattern, which I'll detail a little further below.
Of equal interest is a decent looking SE fetch located NE of New Zealand, which developed slowly over the weekend and is expected to reach maturity over the coming 24 hours. This swell is mainly aimed into the North Coast however we'll see a small E/NE swell filter in late Thursday that'll grace the open beaches with fun, albeit inconsistent waves on Friday.
Combining the two events, and current expectations are for a slowly building south swell on Thursday (~2ft south facing beaches, up to 3ft in the Hunter, but smaller elsewhere), that should build a little more into Friday (2-3ft south facing beaches, reaching 3-4ft in the Hunter, but again, smaller at beaches not open to the south). The east swell won't be very big - probably holding inconsistent sets of about 2ft+ across open beaches - but with offshore winds to finish the week the open beaches should deliver some really fun waves.
This weekend (May 24-25)
We've got a really good weekend of waves in store for southern NSW.
Friday's E/NE swell will fade slowly but should still provide the open beaches with a couple of feet of inconsistent energy. But of much greater interest are a series of much stronger, more 'meridionally' aligned (north-south) fronts through the lower Tasman Sea.
In fact we're looking at three or maybe even four days of pulsing south swell across the East Coast that will probably build through Saturday ahead of an initial peak on Sunday. Exposed south facing beaches are likely to see set waves up to 4-5ft+ however it will be much smaller elsewhere due to the swell direction. And at this stage winds are looking good too as a high pressure system ridges in behind the fronts responsible for the swell. I'll update the specifics on Wednesday.
Long term (May 26 onwards)
A series of secondary fronts in the progression described above are looking good for a renewal of long period south swell through the first part of next week, potentially peaking in a similar size range as we're expecting to see over the weekend. More on this in Wednesday's update.