Monday, 15 July 2019
A steady diet of southerly swell
South-east Queensland and Northern NSW Surf Forecast by Craig Brokensha (issued Monday 15th July)
Best Days: Every morning this period across the NSW region (less so Thursday morning), exposed beaches on the Gold Coast tomorrow AM and Friday AM
Recap
Tiny to flat conditions on Saturday with strengthening offshore winds, giving way to a building and solid pulse of new S'ly swell yesterday across the southern NSW coast with workable winds, fun across the Gold Coast and Sunny Coast into the afternoon.
This swell has dropped back into this morning but with nice clean conditions across all locations, best at south swell magnets.
Today's Forecaster Notes are brought to you by Rip Curl
This week and weekend (Jul 16 - 21)
These notes will be brief as Ben's away on annual leave.
This week will consistent of multiple S'ly swell pulses, some groundswell others mid-period energy. Yesterday's was the first, and currently a secondary larger pulse is pushing up the Mid North Coast, generated by a strong cold front pushing off and up the southern NSW coast this morning.
A fetch of strong to gale-force S/SW-SW winds were generated in our southern swell window and we should see the groundswell building late across northern NSW, peaking overnight and easing tomorrow.
South swell magnets should see 5-6ft sets tomorrow morning, easing through the day, and a little smaller on the Mid North Coast, while the Gold Coast will be mostly small and to 1-2ft with 3ft sets on the swell magnets.
Winds will be favourable for these locations seeing the size with a W'ly tending W/NW breeze through tomorrow morning, weak N/NE into the afternoon (S/SE across the MNC).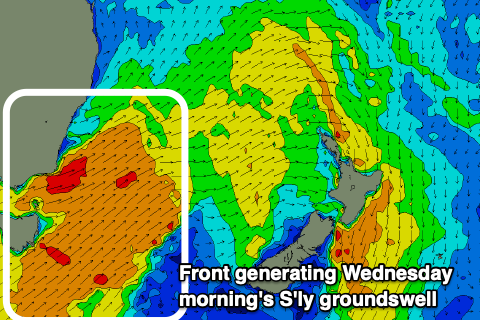 A secondary strong front in the wake of this morning's, boarder in scope and positioned more east into the Tasman Sea will push up through our swell window tomorrow.
A moderate to large S'ly groundswell is expected from this front, peaking Wednesday morning across northern NSW, into the afternoon on the Gold Coast.
South facing beaches should see 4-5ft waves with 6ft cleanups likely, and with favourable morning W/SW offshore winds, but with moderate to fresh NE sea breezes. The Gold Coast isn't due to see much size above 1-2ft across most breaks with those 3ft sets on the magnets.
The swell will ease slowly into Thursday back from 3-5ft across south swell magnets but with less favourable SW tending S/SE breezes.
This will be linked to another cold front pushing up and into the Tasman Sea, generating another moderate sized S'ly swell for Friday morning. This swell may be seen to build late across the Mid North Coast, but a peak is due Friday morning to 4-5ft, easing through the day, small to tiny on the Gold Coast.
Winds will swing straighter W'ly (W/NW on the North Coast), variable into the afternoon if not for a shallow S/SE change.
The weekend will see fun waves across the south swell magnets with Friday's swell easing, reinforced by a new mid-period pulse, and then S'ly groundswell on Sunday morning. These swells will be generated by a more zonal front moving off the southern NSW coast and size wise we should see 3-4ft sets on the south magnets Saturday, possibly similar Sunday morning but then easing.
Morning W/SW offshore winds are expected ahead of afternoon sea breezes Saturday, NW to NE on Sunday. Longer term there's nothing too significant on the cards so make the most of the coming southerly swell pulses.