Friday, 12 October 2018
Large surf and windy conditions - but there'll be pockets of opportunity
South-east Queensland and Northern NSW Surf Forecast by Ben Matson (issued Friday 12th October)
Best Days: Entire period: Sunshine Coast takes the cake - windy at first, but improving more quickly than other regions (where the onshores will remain longer). Surf quality will improve in northern regions first - maybe not until Monday (Gold Coast) and then Tuesday onwards in Northern NSW.
Recap: Building swells though with gusty E/SE winds, only rideable at outer points, still tiny inside sheltered points.
This weekend (Oct 13 - 14)
Today's Forecaster Notes are brought to you by Rip Curl
We've got a complex synoptic chart more reminiscent of February than October. But hey! I'll take it anyway.
A deepening coastal trough east of Fraser Island will move slowly southwards over the weekend, squeezing against a strong high pressure system in the Tasman Sea. This is expected to create gale force E'ly winds off the SE Qld / Far Northern NSW coast over the next few days, which will in turn generate large short-range E'ly swells.
The funny thing about this neck of the woods is that there are not very many places that can handle really large surf. And once you factor in the complex wind outlook, it further narrows the surfable options from a couple, to bugger-all.
Infact, although the wind outlook is super complex (small scale lows forming along the trough line, leading to periods of offshore winds within a synoptic onshore flow), there's not a great deal of point in going into specifics because of the limited surfing opportunities. Especially south of the border where winds will remain fresh to strong E'ly (or maybe E/NE) all weekend - there's simply nowhere to hide.
As for size, we're looking at building size all day Saturday, peaking Sunday with exposed coasts around Far Northern NSW and SE Qld regions likely to be pushing 6-8ft+. As such, sheltered inner points will be your only option. Smaller surf is expeted south from about Yamba.
The best region for this weekend will actually be the Sunshine Coast, as it appears the trough will slide south to about Brisbane latitudes during Saturday - putting the Gold/Tweed/Byron Coasts on a knife-edge for winds (could be anywhere from the east through to the south-west), however north from Brisbane we're likely to see winds become strong S/SE then S'ly into Saturday, before tending lighter SW into Sunday. See the chart below for the latest model run from the EC model - there's a small low off the top of Moreton Island, resulting in light W/SW winds on the Sunny Coast, but gale force E/SE winds on the Gold Coast.
Anything is possible.
But, there'll be stacks of surf. I'll update in the comments as more comes to hand.
Oh, and just for the record, we'll see a additional mix of swells across Northern NSW from the mid-week Tasman Low (off NZ's West Coast), plus some long period southerly swell generated by a deep polar low over the last few days.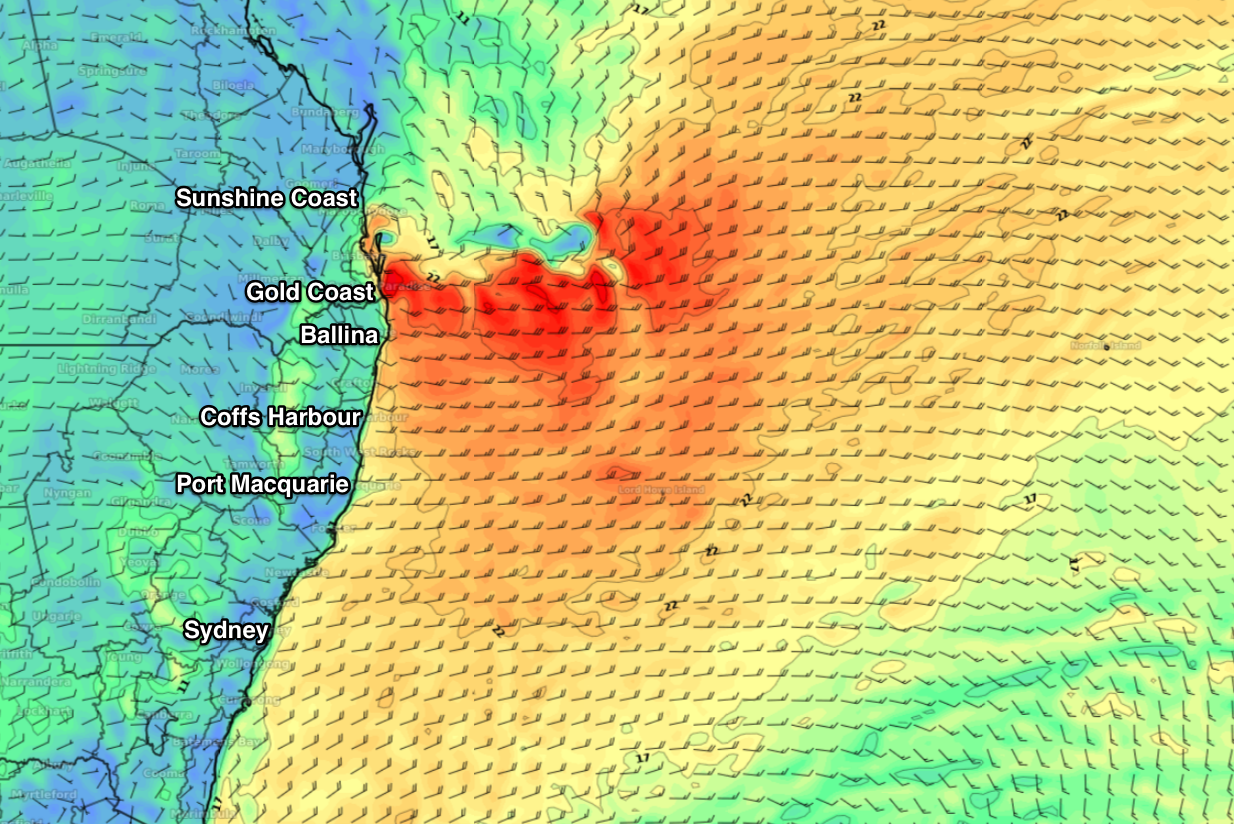 Next week (Oct 15 onwards)
The weekend's deepening trough will remain an influence for most of next week, thanks to the related fetch stretching way out into the South Pacific. This means we'll see E'ly swell through until next weekend most likely.
As the trough slowly tracks south and weakens, we'll see surf conditions gradually improve - though it may take several days for this to occur across the Mid North Coast. Current expectations are for light variable winds on the Gold Coast by Monday, Northern Rivers by Tuesday and then the Mid North Coast by Wednesday. There's a reasonable chance this process may be sped up in future model runs, so I'll update over the coming days (in the comments below) as more info comes to hand.
Wave heights will hold Sunday's peak into Monday morning before slowly easing through the middle of the week, though size is unlikely to drop below 3-4ft at exposed beaches until the very end of the week, or maybe the weekend.
If anything, early Monday may still be oversized for many spots but as the swell eases there'll be plenty of options across the sheltered points. It's really just a case of waiting for the trough to drop, so that conditions can begin the process of cleaning up.
Looking further ahead and moderate northerlies are expected to kick in by Thursday, becoming fresh and gusty Friday/Saturday (along the Mid North Coast), so try to make the most of the Mon-Wed period if you can.
Have a great weekend! See you Monday.