Friday, 18 May 2018
South, south and more south
South-east Queensland and Northern NSW Surf Forecast by Craig Brokensha (issued Friday 18th May)
Best Days: South magnets every morning across northern NSW
Recap
Fun waves across the northern NSW coast yesterday with a mix of short-range S/SE swell and groundswell between 3-4ft, easing back this morning more to 3ft, with the odd bigger one.
The Goldy was tiny yesterday, with some new short-range SE swell offering a touch more size to 1-2ft at open beaches this morning.
Today's Forecaster Notes are brought to you by Rip Curl
This week and weekend (May 19 – 25)
These notes will be brief-ish as Ben's away on holidays.
The new large long-period S'ly groundswell expected across the region tomorrow morning hasn't really shown in Sydney with any real size as of yet. A few of the offshore buoys are picking up impressive periods (Port Botany 19.85s) but it's only 3-4ft at this moment.
The northern NSW coast is a little better aligned to this energy though as it spreads up through the Tasman Sea and we should still see solid 4-5ft waves across south facing beaches tomorrow morning, with 6ft sets in the mix, easing through the day. All other beaches will be much smaller with the acute southerly direction.
The Goldy won't see any size, with tiny waves at most beaches to 1-1.5ft and maybe the odd 2-3ft sets at super south magnets.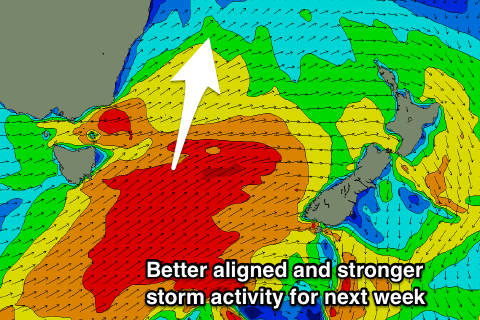 A morning W/SW breeze is due tomorrow, swinging S/SE-SE into the afternoon.
Sunday morning should be nice and clean with easing 2-3ft waves across south magnets on the northern NSW coast, tiny on the Goldy.
Later in the day a new S'ly groundswell pulse is expected from a quite zonal but strong front pushing past the south-east corner of Tassie this afternoon and evening.
This only looks to be back to 3ft, and with sea breezes, dropping back to 2-3ft Monday morning with offshore W-W/SW winds.
We've got some better sized S'ly groundswell energy due from Monday afternoon onwards as the storm track takes a more south-west to north-east track and we'll see the first of a series of strong cold fronts pushing past Tassie and into the Tasman Sea.
The first is due to move through Saturday evening and Sunday morning, projecting a fetch of W/SW gales through our southern swell window and producing a good 3-4ft of S'ly groundswell for Monday afternoon across south magnets in NSW, tiny on the Goldy. Winds will be onshore from the S/SE into the afternoon though.
A secondary front aiming a fetch of strong to gale-force SW winds out of Bass Strait and up along the southern NSW coast Sunday evening and Monday morning will produce a new short-range S'ly swell for Tuesday more to 3-5ft and peaking through the afternoon.
Beyond this the strongest of the polar storms pushing up and through our southern swell window look to generate two large S'ly groundswell pulses for Thursday and late Friday/Saturday respectively, but we'll have a closer look at this Monday. Have a great weekend!