Good swells with improving winds as the week progresses
South Australian Surf Forecast by Craig Brokensha (issued Monday April 11th)
Best Days: Wednesday South Coast, Thursday South Coast, Friday South Coast, Saturday morning South Coast, Sunday protected spots South Coast
Features of the Forecast (tl;dr)
Easing W/SW and S swells tomorrow with Tue with E tending fresh SE winds (E/NE for a period down South)
Mod + S/SW groundswell for later Wed with fresh NE tending E/NE-E winds
Easing S/SW groundswell Thu with a reinforcing SW groundswell for the PM
Moderate N/NE tending variable winds Thu
Easing surf Fri with early N tending S winds, and light N/NE tending E/SE winds Sat
Building S/SW swell Sat PM, easing Sun with fresh N tending W/NW then SW winds
Recap
Unfortunately the small, inconsistent and slightly flukey mid-period W/SW swell due over the weekend didn't really translate to much across the South Australian coastline. Whilst the swell performed as expected in Western Australia, it under performed in our state with small, clean 1-2ft waves across Middleton, best on the magnets while the Mid Coast saw 1ft+ waves Saturday and tiny surf Sunday.
Today a trough has brought an onshore change to the South Coast with a building S/SW groundswell while a weak W'ly new swell is providing tiny waves for the keen on the Mid Coast.
This week and weekend (Apr 12 - 17)
Today's building spike of S/SW groundswell down South was generated by a late forming low that dropped south-east through our swell window yesterday. It should reach 3-4ft across Middleton, but ease back fairly rapidly tomorrow from 3ft on the sets.
The tiny swell on the Mid will also ease back from 1ft along with E/SE winds, while the South Coast will be bumpy with moderate E-E/NE winds, best in protected spots.
Wednesday should see more favourable NE winds through the morning along with a low point in swell ahead of a moderate sized + S/SW groundswell into the late afternoon.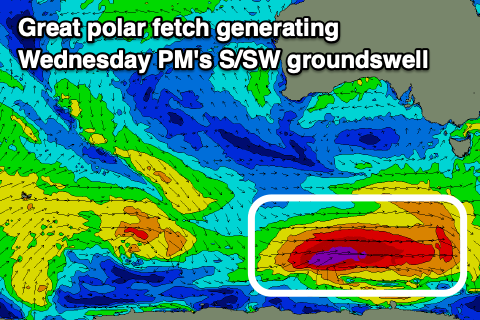 The source of this swell is a strong polar low that's developed south of the country, with a great fetch of severe-gale to storm-force W/SW winds due to be generated through our southern swell window today before passing into the swell shadow of Tasmania tomorrow.
Size wise it looks to be a touch under Friday's expectations, but we'll still see Middleton building to a strong 4-5ft into the late afternoon, though too south for the Mid Coast to see anything above 0.5-1ft. Winds will shift E into the afternoon creating bumpy conditions, though it'll be surfable.
Thursday looks good with N/NE offshore winds, easing and tending variable into the afternoon with a mix of easing S/SW groundswell energy and reinforcing SW groundswell for the afternoon.
The reinforcing energy will be generated by a great polar front pushing under the country tomorrow and Wednesday evening, generating a fetch of gale to severe-gale W/NW winds.
Size wise surf to 4ft is due across Middleton in the morning, holding 3-4ft into the afternoon and then easing from 3ft+ Friday. This reinforcing swell won't favour the Mid Coast with tiny 0.5-1ft sets continuing.
Winds on Friday will be great early and light offshore ahead of a weak S'ly change mid-morning though it doesn't look to do too much damage with light to moderate S'ly winds later. Winds should revert back to the N/NE on Saturday as the swell eases further.
Longer term some new mid-period S/SW swell is likely into Saturday afternoon ahead of an inconsistent SW groundswell for Monday afternoon. These will be generated by secondary polar lows moving through our swell window through the middle to end of the week but not to the strength of the current activity.
Saturday afternoon's should come in around the 4ft range across Middleton, with Monday's similar in size but less consistent.
Stronger N tending W/NW winds are due Sunday ahead of a cold front and afternoon change which will leave SW winds into Monday. More on this in the coming updates though.