Lots of swell but generally average winds
South Australian Surf Forecast by Craig Brokensha (issued Monday February 14th)
Best Days: Keen surfers Mid Coast later today and tomorrow, South Coast for the keen Wednesday morning, South Coast for the keen Saturday morning, South Coast Sunday morning
Features of the Forecast (tl;dr)
Inconsistent mid-period W/SW swell building this afternoon, easing tomorrow with moderate SE tending S'ly winds
Stronger SW groundswell building later Mon, peaking Tue AM
Easing SW swell Wed with light E/SE tending fresh S/SE winds on the Mid, variable S'ly down South, increasing through the day
Low point in swell Thu with fresh S/SW winds (S/SE early on the Mid)
Building mix of SW groundswells Fri with fresh S/SW winds, easing Sat with E/SE tending S/SE winds
Easing swell Sun with W/NW tending W/SW and SW winds
Recap
Lumpy conditions but a mix of swells to 3ft on Saturday morning down South, cleaner and better yesterday morning but smaller and back to 2ft. The Mid Coast was a clean 1-1.5ft on Saturday with 0.5-1ft waves for beginners yesterday.
Today a trough has brought an onshore change with tiny levels of swell down South and 0.5ft sets on the Mid Coast.
This week and weekend (Feb 12 - 18)
Later today we should see some new mid-period W/SW swell filling in on the Mid Coast to 1-1.5ft (the swell has picked up on the Cape du Couedic wave buoy), holding a similar size tomorrow morning while the South Coast should pick up some better SW groundswell.
The source of these swells was a mid-latitude front pushing up and under Western Australia before then dipping south-east through our swell window while strengthening. A great fetch of severe-gale W'ly winds were generated slightly off-axis to the South Coast's swell window but we should still see infrequent 3-4ft sets across Middleton tomorrow out of the SW, easing into Wednesday from 3ft.
Winds tomorrow will favour the Mid with a moderate SE breeze (S/SE down South), holding from the S/SE-S in the gulf all day. Wednesday looks a bit cleaner down South with a more variable breeze from the S/SW, E/SE on the Mid Coast. Size wise the Mid looks to ease from 1ft with those 3ft sets across Middleton down South.
Moving into Thursday an approaching frontal progression will bring fresh S/SW winds, but the Mid Coast should see a morning S/SE breeze though tiny surf. These winds will continue Friday along with building levels of SW groundswell.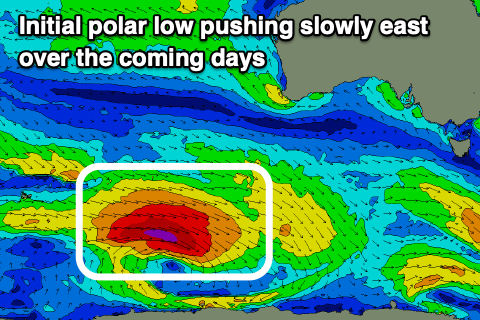 This progression will generate an initial fetch of severe-gale W/NW winds as a polar low fires up east of the Heard Island region today, projecting slowly east before weakening under the country Wednesday. A secondary strong fetch of severe-gale W'ly winds will quickly swing in on the back of the polar low, producing the largest pulse of groundswell for later Friday and Saturday morning.
The initial polar low should generate an inconsistent SW groundswell that will build through Friday, increasing from 3-4ft across Middleton in the morning towards 4-5ft+ into the afternoon with the larger swell kicking to 5-6ft on dark. Saturday morning looks to ease from a similar 5-6ft.
The Mid Coast won't see too much size owing to the position of the frontal progression with 1-1.5ft sets Friday afternoon, holding Saturday and fading Sunday.
Winds will improve slowly on the weekend, shifting E/SE during Saturday morning and only being light with Sunday offering a light W/NW breeze down South before freshening from the W/SW and tending S/SW as a trough moves in from the west. Some reinforcing mid-period SW swell is due into early next week linked to the trough but winds look to remain S'ly for the South Coast while the Mid remains tiny.