Humid, tiny week of surf
South Australian Surf Forecast by Craig Brokensha (issued Friday January 21st)
Best Days: South Coast for the keen Sunday morning, South Coast Monday morning, beginners on the Mid late Saturday and Sunday
Features of the Forecast (tl;dr)
Tiny inconsistent W/SW swell for tomorrow PM, easing Wed with variable morning winds and weak (if any) sea breezes
Variable tending SW winds Thu, freshening from the SW Fri
Building SW groundswell later Sat, peaking Sun AM with gusty S/SE winds Sat and E/SE-SE tending S/SE winds Sun
Easing swell Mon with NE tending S/SE winds
Recap
Tiny surf across the South Coast all weekend with variable winds during the mornings and humid weather as a very slow moving surface trough/low pushed offshore into the Bight to our west. The Mid Coast has been clean but effectively flat. Today the surf is similar with no size across either coast.
This week and next (Jan 25 - 30)
Settle in to the current regime as we've got more of the same due this week across the state.
The trough that's bringing moisture in from the west will dominate our weather and surf this week, squeezing high pressure to it's south-west and south-east, blocking our major swell windows. The trough is actually harbouring two low pressure systems, one in the Bight and another towards Western Australia, with the setup as a whole drifting east-southeast through the week.
This will bring N/NE tending variable winds tomorrow and variable winds Wednesday morning ahead of weak sea breezes, if any. Swell wise, a small, inconsistent W/SW swell may be seen on the Mid Coast, though the weekend's didn't show too well so only expect 0.5-1ft sets tomorrow afternoon, fading Wednesday.
On Thursday the low will start moving across us bringing funky winds that may be variable early ahead of a very shallow SW change. We'll see a freshening SW'ly develop on Friday as the tail of the trough moves through, leaving S/SE winds on Saturday as a new high pressure ridge edges in from the west.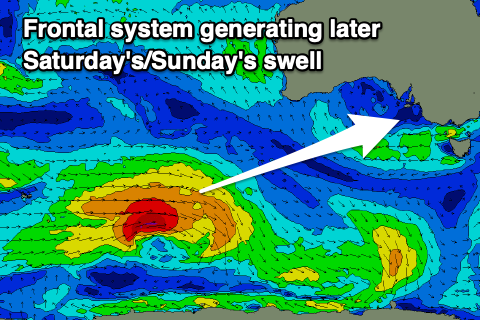 Swell wise, we've got a new SW groundswell due to arrive later Saturday and peak Sunday morning, generated by a strong polar frontal system firing up around the Heard Island region tomorrow afternoon. A great though distant fetch of gale to severe-gale W/SW winds will be projected through our swell window, with the storm weakening south of Western Australia Thursday evening.
Size wise the South Coast should peak Sunday morning to 3-4ft across Middleton, while the Mid Coast looks to offer 1ft+ waves later Saturday and Sunday morning. Winds will shift more E/SE-SE on Sunday morning though keep the South Coast wind affected and average, with better, cleaner conditions due early next week as winds shift NE and the swell eases. Longer term it looks like S/SE winds will kick in again through the rest of next week as a strong, new high pushes in from the west. More on this Wednesday.