A dynamic period with varying winds and swell pulses
South Australian Surf Forecast by Craig Brokensha (issued Wednesday October 6th)
Best Days: Today down South ahead of the change, Friday down South, Monday on the Mid Coast
Features of the Forecast (tl;dr)
Weak windswells Thu with mostly onshore winds (S/SE-SE early on the Mid and W/NW for short periods down South)
Fun, mid-period SW swell Fri with moderate N/NE tending NW winds
Easing swell Sat variable tending S/SW winds by mid-morning
Building mix of W/SW swells Sun with strong S/SW winds, easing Mon with fresh E/NE tending SE winds
Recap
Monday's large, stormy surf on the Mid Coast backed off into yesterday morning, 3ft at dawn but easing back to 2ft with the large outgoing tide as fresh onshore winds slowed abated. The afternoon was another story. Winds went variable, the tide kicked back in and the waves semi-pumped with 2-3ft sets on the magnets until filling up late.
The South Coast didn't off much in the way of size with 2-3ft waves across Middleton with workable winds all day.
Today we've got much cleaner and better surf on offer down South with the swell hanging in at 2-3ft with great winds. The Mid Coast was clean, full and 1-2ft at dawn, but has now dropped and deteriorated with increasing northerly winds.
This week and weekend (Oct 7 - 10)
Later today we'll see a weak cold front bring a strong SW change that will abate through tomorrow, leaving fresh W/SW winds across the South Coast, that may tend W/NW for a short period during the morning then going back to the S/SW into the afternoon.
There'll be no decent swell in the water with today's energy dropping further, mixed in with some local windswell. The Mid should see early S/SE-SE winds but tiny, full surf.
The origins of this weak front though was a slow moving, tight low that formed under Western Australia on Monday evening. While not overly strong and fairly small in scope, we should see a fun bump in mid-period SW swell from this source Friday morning, easing through the day.
Middleton should see 3ft sets across Middleton, with the Mid coming in at 1.5ft or so (slightly smaller/bigger on the varying stages of the tide). Conditions will be best down South though with a moderate N/NE offshore, shifting NW into the afternoon as the swell eases, but keeping conditions relatively clean all day.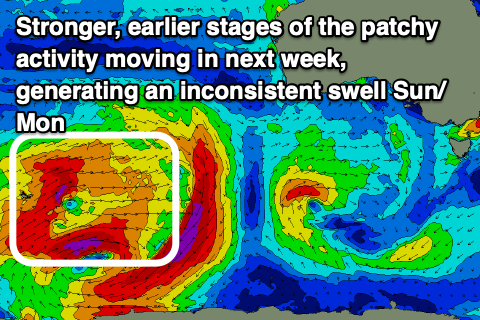 Make the most of this as we're due to see a shallow S/SW change moving through Saturday morning with smaller, easing surf from the 2ft range.
From Sunday we've got building levels of mid-period W/SW swell, mixed in with some long-range, inconsistent groundswell, all generated by the same system. A broad, polar low that's currently east of the Heard Island region is generating patchy fetches of W/SW gales and an inconsistent W/SW groundswell for Sunday afternoon.
The remnants of this low should move east through our medium-close range swell windows but in a weaker form. We'll see mid-latitude fronts projecting strong to sometimes gale-force W/SW winds through our western swell window through the end of the week and then through the Bight on the weekend.
With all this activity expect the surf to build on the Mid Coast through Sunday, from a small 1-2ft to 2ft+ through the afternoon, easing back from the 2ft range on Monday.
The South Coast isn't expected to see much size with inconsistent 3ft surf due across Middleton at the peak but with poor, strong S/SW winds on Sunday, swinging around to the E/NE on Monday as the swell eases.
Following this the outlook is a little mixed with a strong mid-latitude low possibly pushing in from the south-west of Western Australia mid-week, bringing more windy swell. We'll have a closer look at this on Friday.