Rapid improvement in surf through tomorrow
South Australian Surf Forecast by Craig Brokensha (issued Monday October 4th)
Best Days: Mid Coast tomorrow afternoon, South Coast tomorrow, South Coast Wednesday, Friday South Coast, Saturday morning South Coast
Features of the Forecast (tl;dr)
Easing, mid-period W/SW swell tomorrow with fresh W/SW tending variable winds on the Mid, fresh W/NW tending variable down South
Smaller Wed with gusty NE tending lighter N/NW winds ahead of a late, strong SW change
Weak windswells Thu with fresh W/SW winds
Fun, mid-period SW swell Fri with strengthening N/NW winds (N/NE early on the Mid)
Easing swell Sat with NW tending fresh SW winds
Building S/SW swell Sun with SE winds, easing Mon with possible morning NE winds
Recap
Better conditions across the South Coast on the weekend with a variable breeze Saturday morning and lumpy, easing swell from the 3ft range, cleaner yesterday but back to 1-2ft. The Mid Coast was tiny to flat on Saturday, while yesterday saw a building windswell into the afternoon as an initial front brought strong NW tending W/NW winds.
Today, the secondary, stronger mid-latitude frontal system is pushing in, kicking up a stormy 3ft of swell that's due to get even bigger this afternoon. Owing to the westerly direction of the swell and blocking effects of Kangaroo Island, the South Coast was clean but small to tiny.
This week and weekend (Oct 5 - 10)
There's not much change to tomorrow's outlook with conditions expected to improve steadily through the day on the Mid Coast along with solid, easing levels of W/SW swell.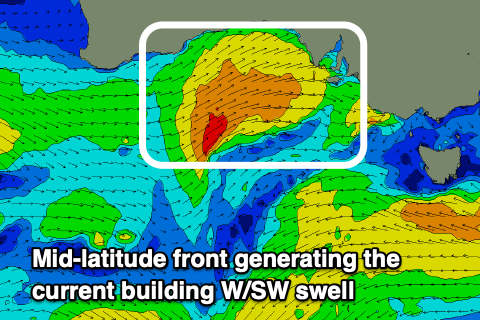 The strong mid-latitude front that's currently pushing in from the west will generate a better swell producing fetch for the South Coast this afternoon, with near gale-force W/SW winds forecast to fire up.
This should bring more size tomorrow, but it will be weak, mid-period energy still and coming in at 3ft+ across Middleton, easing through the day and back to 2ft Wednesday.
The Mid Coast is the interesting one, with easing sets from 3ft, down steadily during the day but winds and conditions will improve through the day. A dawn, fresh W/SW breeze is due to abate through the morning, tending variable into the afternoon and then offshore on dark.
The South Coast will see fresh W/NW winds, easing through the day and likely variable into the afternoon and evening.
Gusty NE winds are due into Wednesday morning (light N/NW into the afternoon) but the Mid Coast will be only 1-1.5ft, while as outlined above, the South Coast only 2ft across Middleton, better on the swell magnets.
Looking at the secondary, better positioned frontal system (for the South Coast) and this now looks a bit slower moving and tighter in nature, resulting in a delay in the swell's arrival until Friday.
The swell generating system is currently south of WA, and we should see a tight low form this evening, generating a slim fetch of stalling W/SW-SW gales through our swell window tomorrow, projecting slowly east Wednesday while weakening, then under us Thursday.
A front spawning off this low will move in later Wednesday, bringing a strong SW change with weak levels of swell and persistent W/SW winds on Thursday.
Friday is the day to surf with the mid-period SW swell peaking to 3ft to occasionally 4ft across Middleton, with the Mid coming in around mostly 1.5ft but there might be the odd 2ft set with the tide.
Winds will be great for the South Coast and freshening from the N/NW ahead of a late W/NW change, while the Mid looks to see early N/NE winds, shifting N/NW and then W/NW.
Moving into the weekend and there's a window of clean conditions down South Saturday morning with a NW offshore ahead of a SW change, swinging SE into Sunday.
Swell wise, a slow moving and broad but relatively weak low firing up south of us on the weekend looks to bring some fun, mid-period S/SW swell Sunday afternoon but with those average winds. Monday may become cleaner as the swell eases but this depends on how quickly a high moves in. More on this Wednesday and we've got plenty to deal with in the meantime.