Smaller surf tomorrow ahead of a mix of swells Friday onwards
South Australian Surf Forecast by Craig Brokensha (issued Wednesday September 8th)
Best Days: South Coast tomorrow morning, Mid Coast Friday morning, South Coast all day Friday, South Coast Saturday morning, Mid Coast Monday
Features of the Forecast (tl;dr)
Easing S/SW groundswell tomorrow with strong N/NW winds
Mix of inconsistent W/SW groundswell Fri and building S/SW swell with NE tending fresh N winds on the Mid, N/NE tending fresh N/NW winds down South
Easing mix of swells Sat with strengthening NW tending W/NW winds (N/NE early on the Mid)
Stormy building SW and S/SW swell Sun with strong W/SW tending SW and then S/SW winds
Large SW groundswell building late Sun, peaking Mon AM with fresh S/SE winds, easing Tue with morning E/NE-NE winds
Recap
Clean, fun 2-3ft waves across Middleton yesterday morning, building more into the afternoon but more so late in the day with the arrival of new SW and S/SW groundswells with a moderate to fresh sea breeze. The Mid Coast was tiny in the morning but pulsed to 1-1.5ft through the afternoon with this morning coming in at a similar size, though full and slow. Winds were good at dawn but have since increased from the north.
The South Coast is the pick today with strong sets in the 4-5ft range under a light offshore wind. We'll see winds remain great all day, tending N/NW-NW and holding as the swell starts to ease.
This week and weekend (Sep 9 - 12)
This morning's good mix of SW and S/SW groundswells, generated by a distant polar low and close-range low respectively will ease off into this afternoon, with a much more noticeable drop in size due through tomorrow.
This is due to the close-range low which is generating the most consistent energy today firing up late in our swell window before passing under Tassie and out of our swell window.
Middleton should ease back from 2-3ft, with tiny surf on the Mid Coast and a strong N/NW wind will favour some spots over others.
Into Friday, we've got our new, mid-period S/SW swell due to fill in, generated by a good frontal system firing up under the country this evening (top right image).
A broad and elongated fetch of strong to gale-force W/SW winds are due to be projected east-northeast through our south-western and southern swell windows before passing under Tasmania tomorrow evening.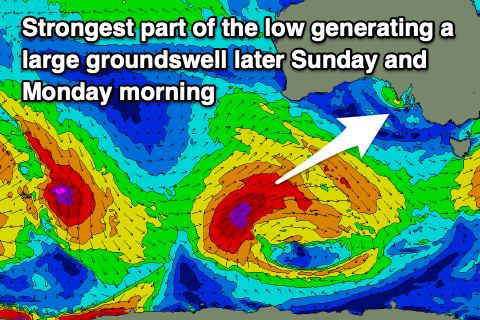 This should generate a good pulse of swell to 3-4ft across Middleton through the afternoon, likely a little undersized at dawn. The Mid Coast will also see an increase in size but from a different swell source, generated by a distant, slow moving low that was in the south-east Indian Ocean at the start of the week. It'll be inconsistent but sets to 1-2ft are due all day on the favourable parts of the tide.
Looking at the local winds and favourable NE breezes are due early on the Mid, increasing from the N'th through the day, with N/NE tending N/NW winds down South while freshening.
Saturday will see both the S/SW and W/SW swells easing from 3ft across Middleton and 1-1.5ft on the Mid Coast along with NW tending stronger W/NW winds down South (N/NE early on the Mid).
Now, moving into Sunday winds will strengthen from the W/SW tending SW, then shifting S/SW into the afternoon as a weakening frontal system pushes in from the south-west. This frontal system will actually be the remnants of a strong polar low that's currently in the Heard Island region.
This low will generate a healthy fetch of W/SW gales in our far swell window, but of greater importance is an intensification of the low once south-southwest of Western Australia on Friday. We'll see stronger severe-gale to storm-force SW winds projected up and towards us weakening as the low pushes closer towards us and across us Sunday.
While bringing onshore winds the low will also bring a large SW groundswell, with it due to build later Sunday and peak Monday morning. The low pushing up and into us Sunday will bring some larger mid-period swell on Sunday afternoon though with the South Coast due to build to a stormy 6ft by dark, with the Mid Coast seeing choppy 2-3ft waves.
Monday will remain poor with fresh to strong S/SE winds and the large groundswell to 5-6ft across Middleton, cleaner on the Mid and around 2ft. We may see winds tend E/NE-NE on Tuesday morning but the swell will be much smaller, dropping steadily from Monday afternoon, down from 3ft in the morning. The Mid will also be tiny.
Longer term a moderate to large W/SW groundswell looks likely for next weekend, generated south-west of Western Australia, but more on this in the coming updates.