Great run for the South Coast with smaller options on the Mid
South Australian Surf Forecast by Craig Brokensha (issued Monday September 6th)
Best Days: South Coast tomorrow, Wednesday, Thursday, Friday and Saturday morning, beginners on the Mid tomorrow and early Wednesday, Friday morning on the Mid
Features of the Forecast (tl;dr)
Mod-large SW groundswell building tomorrow, peaking in the PM with an additional S/SW groundswell late in the day, but more so Wed, easing throught the day. Light W/NW tending S/SW winds down South, E/SE tending W on the Mid
Great N tending N/NW winds with the easing S/SW groundswell Wed (N/NE early on the Mid)
Easing S/SW swell Thu with fresh to strong N/NW winds
New mix of W/SW and SW swells for Fri with NE tending freshern N/NW winds on the Mid, N/NE tending N/NW down South
Easing mix of swells Sat with strengthening W/NW winds
Building S/SW groundswell Sun, peaking Mon with strong SW tending S winds, more variable Mon AM
Recap
Onshore winds moved in just before dawn on Saturday down South creating poor conditions with a small swell, better on the Mid Coast for the keen with bumpy 1-2ft waves. Sunday was similar on the Mid and the South Coast was a touch better with more size and workable winds for protected spots.
Today winds are lighter but with a drop in W/SW swell energy leaving tiny waves on the Mid Coast, workable for the keen down South.
This week and weekend (Sep 7 - 12)
We've got a great week of surf ahead before things go a little pear shaped into the weekend.
Firstly, there's no change to the SW groundswell that's due to fill in tomorrow, generated by a strong, slow moving polar low that developed around the Heard Island island region last Thursday evening.
The low pushed east while generating slowly weakening winds from the severe-gale range, and there's been no change to the expected size with it due to build through tomorrow, from 3ft across Middleton, to 4-5ft into the afternoon with 1-1.5ft sets on the Mid Coast through the afternoon.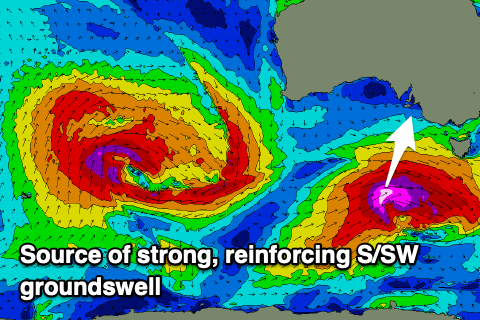 There's been an upgrade in a reinforcing pulse of S/SW groundswell due in the mix late tomorrow but more so Wednesday morning, generated by a deepening, significant low south of us today.
Ahead of the low, pre-frontal severe-gales will be followed by post-front severe-gale to storm-force W/SW-SW winds, and these secondary winds will be the main source of swell for us.
Size wise, Wednesday morning should see strong 4-5ft+ waves across Middleton (5-6ft sets deep water reefs), easing through the day, with the swell not being favourable for the Mid Coast leaving easing 1-1.5ft sets.
Conditions tomorrow will be clean ahead of the bulk of the swell with a light W/NW breeze down South, light E/SE on the Mid, with weak S/SW sea breezes down South, W/NW on the Mid. With winds being light into the afternoon and with the strong new, building swell there'll still be quality options down South.
Wednesday looks the day though with N tending N/NW winds (N/NE in the AM on the Mid), creating excellent conditions all day with the strong S/SW groundswell.
Thursday will also be good but windier with a fresh to strong N/NW breeze and easing sets from 2-3ft across Middleton, tiny on the Mid Coast.
Moving into Friday and a fun, new, mid-period SW swell is due, generated by a strengthening, broad polar frontal progression firing up under the country Wednesday afternoon.
Strong to gale-force W-W/SW winds are forecast and this should produce a moderate sized swell, peaking through Friday. Middleton should see 3ft+ waves, while the Mid Coast will actually see an inconsistent W/SW groundswell filling in at the same time. This is being generated by a strong mid-latitude low that's west-southwest of Western Australia, with a fetch of patchy gale to severe-gales being projected through our medium-long range swell window.
The swell will be inconsistent but 1-2ft sets are likely on the Mid and with favourable (early) light NE tending stronger N/NW winds. The South Coast will be clean all day and great fun again.
Come Saturday the swell will be on the way out and with a strengthening W/NW breeze ahead of a trough which will move through Sunday bringing strong SW tending S winds. This trough will be attached to a stronger polar frontal system, generating a large S/SW groundswell for Sunday/Monday, but we'll have a closer look at this Wednesday.